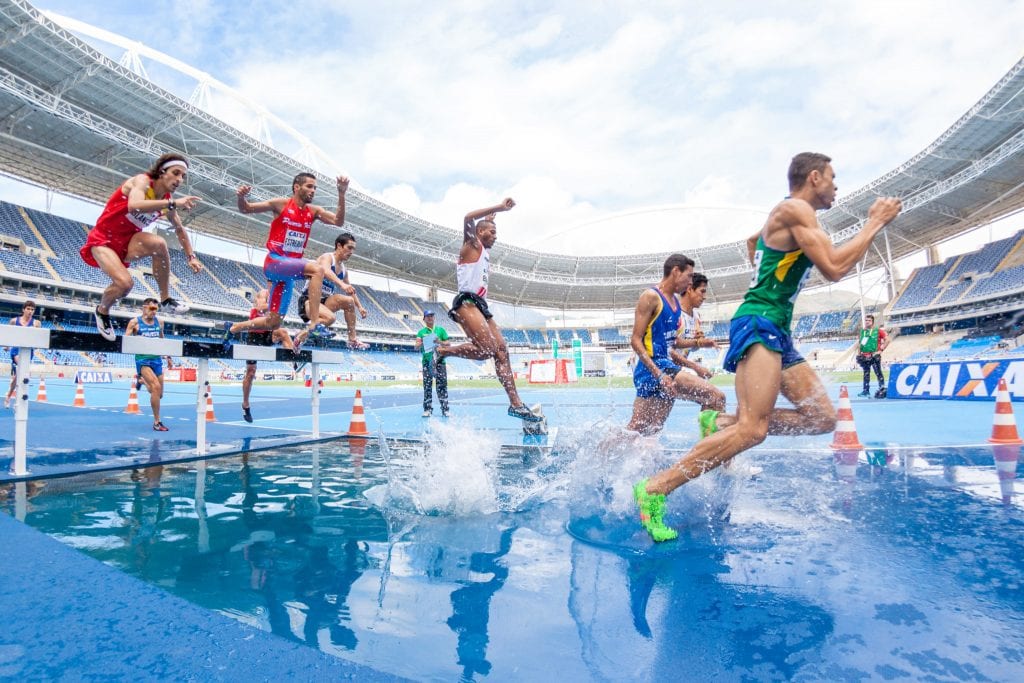 Olympic Reflections: Post-Rio, Sales Takeaways from the Olympics
It's an interesting image, isn't it?

Believe it or not, the above image is of an Olympic event known as the "steeplechase." One of track and field's most vigorous, the anaerobic test requires that runners clear 28 hurdle-like barriers and seven water jumps en route to claiming a gold medal for their country.

Oh! And they also have to run 3,000 meters in the process …

Did you happen to catch NBC's coverage of the event in Rio?

If not, you're not alone. It's easy to lose track of some of the smaller, quirkier events with everything that's taking place. Think about it—when Michael Phelps, Usain Bolt and Simon Biles aren't crushing it at the pool, track or gym, Ryan Lochte is busy getting loose and wild with a few of his teammates.

There's plenty to digest, and relatively little time to take it all in.

Likewise, if you're in the sales game, you might've missed out on something of particular interest to your industry—the striking similarities between what Olympic athletes must endure during the Games, and what you do on a daily basis.

No, I'm not making that big of a leap with all of this—keep reading to catch a glimpse of post-Rio, sales-centric Olympic reflections:

Meaningful Goals Are the Driving Force Behind Great Performance

You don't have to do much digging to find incredible examples of goal-driven determination in Rio. One of my favorites comes from Bahamian Shaunae Miller's epic face-first dive over the finish line to win gold in the 400 meters.

Without the last-second lunge, she likely would've lost the race to American Allyson Felix. Four years of mind- and leg-numbing preparation to win the gold in her most dominant event—she simply couldn't let the winning opportunity pass her by.

Sales is no different.

The drama of a four-year lapse between sales pitches isn't there, but the need formeaningful, measurable goals is without a doubt present.

The most accomplished salespeople are self-starters, allowing their goals to push them when managers and potential clients aren't nearby. They're set on personal improvement along with a laser-sharp focus to create winning outcomes for all parties involved, and their goals reflect that.

To Become the Best, You Must Surround Yourself With the Best

Coaches, trainers, nutritionists and teammates—to become the best, you have to work with the best. The crossover to the sales world is apparent, but I want to take things a step further—as a salesperson, the environment in which you conduct your craft must be top-notch, too.

It goes without saying that CEOs, sales leaders and fellow sales colleagues must be at the top of their field, pushing you to improve alongside them. But there's something to be said for where you work, too.

Does your employer make a conscious effort to build a world-class working environment? Is your place of business open, forward-thinking and adaptive? At work, do you find yourself improving not only as a salesperson, but as a human being, as well?

If you don't, in order to be your best sales self, it's either time to become the change you desire, or seek improvement elsewhere.

Yet again, Rio came through in the clutch, providing us with an awesome example of the type of working environment salespeople need to see long-term success. It was the semifinal running of the women's 5,0000 meters. With both nerves and adrenaline pumping, mistakes weren't only likely, they were inevitable.

You've seen the news; you know what happened.

Mid-race, New Zealander Nikki Hamblin suddenly tripped, bringing American Abbey D'Agostino down with her. Frustrated, Hamblin lay on the ground with her hands over her face.

D'Agostino immediately stood up, and helped Hamblin to her feet, saying, "Get up, get up! We have to finish!" Unbeknownst to Hamblin at the time, D'Agostino had injured her knee in the fall …

As they continued with the race, it became apparent that D'Agostino's injury was somewhat severe—she simply couldn't run her best.

Throughout the remainder of the race, Hamblin continued to gaze back at D'Agostino, looking for some sign that her condition was improving. Each time, the American replied with shouts of, "Keep going! Keep going!"

Inspirational stuff, to say the least.

Though the pair finished last and next to last, after the race, they embraced for a friendly hug, displaying to all the world what it truly means to be an Olympic athlete.

I understand that sales is an extremely competitive field, but with the right people and culture in place, it can be one of mutual progress, collaboration, success and respect, as well.

Improvement Is One Eternal Round

Yes, I've already referenced Michael Phelps, but as a proud American, how could I wrap up this post without zeroing in on the swimmer's fantastic journey back to the top of the Olympic world?

You know the story—though he'd seen the podium multiple times in Athens, Beijing and London, illegal drug use, alcoholism and rumors about the unstable nature of Michael Phelps' life continued to swirl about the media …

It appeared that the most winningest Olympian of all time was on a fast track to self-implosion.

But instead of calling it quits and continuing with retirement, Phelps decided to recommit himself to the sport he'd loved so much.

Using mental strength to push through both physical and emotional barriers, he gave birth to a son, became engaged and topped it all off with five golds and one silver in Rio – becoming the greatest Olympian of all time with a grand total of 28 medals!

Following in Phelps' footsteps, no matter how many deals you've closed, clients you've landed, relationships you've expanded or dollars you've made, salespeople must continually make an effort to improve and grow. Whether it's the implementation of a few new non-verbal sales skills or learning to further heighten your emotional intelligence, learning is a lifelong affair.

Conclusion

The steeplechase is an awesome race—it's one of those things you have to see to believe. And though you probably missed it this year, having now learned more of the race, you're less likely to pass on it in 2020 when the Summer Olympics takes to Tokyo.

Similarly, I hope you'll pay extra close attention to the strong relationship between an Olympian's journey, and that of an up-and-coming sales talent.

What are you waiting for? It's time to go for gold.

I love the Olympics, and will greatly miss them until South Korean snow starts fallingin 2018. However, instead of waiting two more years for the Olympic conversation to start back up, let's keep things going in the comments section below.

Using the above points (and any others you can think of), what Olympic stories from Rio have strong ties to the world of sales? Below, share them with me! I'm excited to what you've got for me, and can't wait to learn from each of you. Thanks for reading, and have a great day!

Note:  This post was originally featured on Linkedin