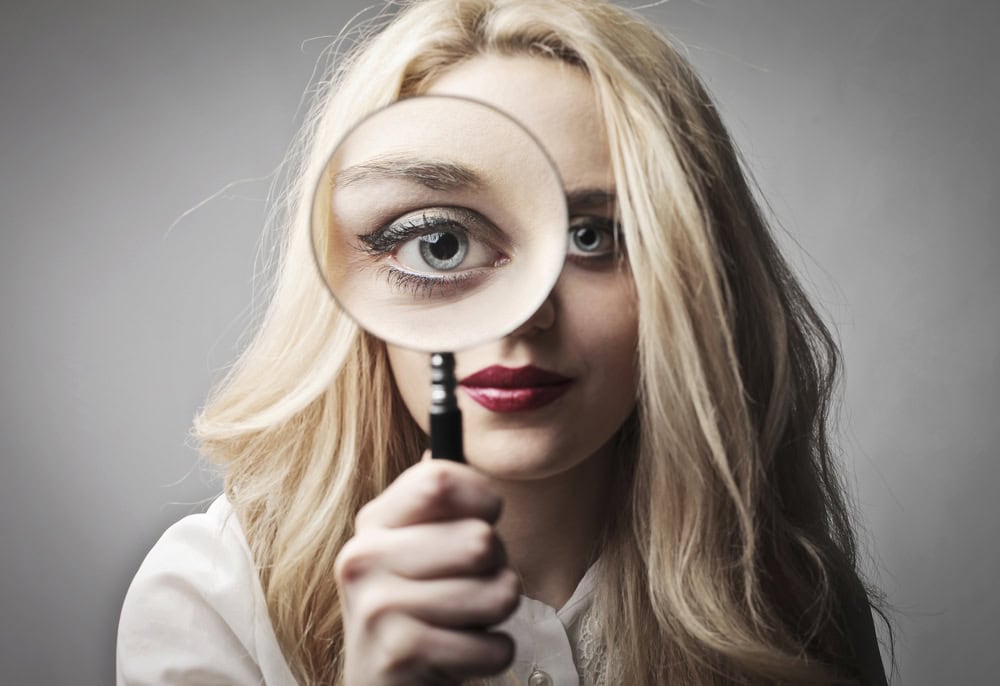 How to Prepare for Sales Interviews to Land The Job
I co-host a community called Thursday Night Sales and acing a sales interview is a topic that comes up ALL the time.  
Regardless of how much sales experience someone has, it's fascinating to hear how many people struggle with interview preparation in real life and how they fail to show up as a result.  
Being invited in for the sales interview is the first win in the journey to getting hired, but that's just the start.  
Do you grapple to get to the next step in the interview process, let alone receive an offer?
How many times have you been heartbroken when you think you've landed your dream job only to be told, "we're moving forward with someone else?"
There's nothing more frustrating than getting a seat at the interview table for your dream job, only to be turned down and sent back to the drawing board. 
After interviewing more people than I can count and collaborating with countless executives on their hiring process, the common theme is preparation.
The salespeople that left the job interview leaving the hiring managers wanting more have one thing in common… they were well prepared and it came through.
I'm not talking about surface-level preparation like browsing the company website for 15 minutes.  I'm talking about digging deep below the surface, taking the interview process seriously, and committing to going the extra mile because you care about your sales career and making a great decision.  
Before we talk about what to do to snag that dream job, it's important to paint a clear picture of what falls short in a sales interview.
The Most Common Interview Mistakes
Not being intentional
You can't teach people to care.  Intentionality (or lack thereof) always comes through.  It's obvious when people show up to an interview planning to just wing it and see what happens. 


If you're just window shopping, what's the point?  Taking an interview is an investment in yourself and your sales career.  If you agree to sit down with someone and show up ill-prepared, it wastes their time and yours. 
Failing to focus on the company
When you answer a sales interview question, it's critical to think about how you're framing your response.  Far too many salespeople use the interview to showcase their personal highlights and achievements at the surface level, forgetting that they're being interviewed for what they bring to the company specifically.  You need to focus on the company's product, service, mission, opportunities, in the context of the challenges that the sales job addresses. 


If you stop at "I did X, Y, and Z for a company a few years ago…" you're failing to put your experience in the right context.

It's much better to say, "as the top salesperson out of a team of 15, I did X, Y, and Z for this company, I helped my buyers do X and Y, I developed D, E, and F for my team that resulted in A, B, and C, and here's why that might be helpful to you given that you shared G, H, and I with me."

See the difference?
Making assumptions
You know what they say about assumptions…


If you assume at any point in the process – whether it's about the sales role you're interviewing for, the company history, or the person interviewing you – you end up selling yourself short and leaving a lot of opportunities left behind.  It's okay to ask questions and if it's not, this is probably not a sales team you want to be a part of your dream job.


Hiring managers pay close attention to this as they're not just evaluating you for their business, they're looking at your competency as it relates to the buyer and their journey.


I can't emphasize this enough: seek to understand, NOT respond. 


The overwhelming majority of hiring managers appreciate this (I know I do).  
How to Prepare for a Job Interview (the right way)
Sales and interviewing aren't so different.  Thinking of your interviews the same way you would your biggest sales meetings pays off.  
The top 1% in sales consistently do these 8 things to prepare for success and they absolutely translate here as well: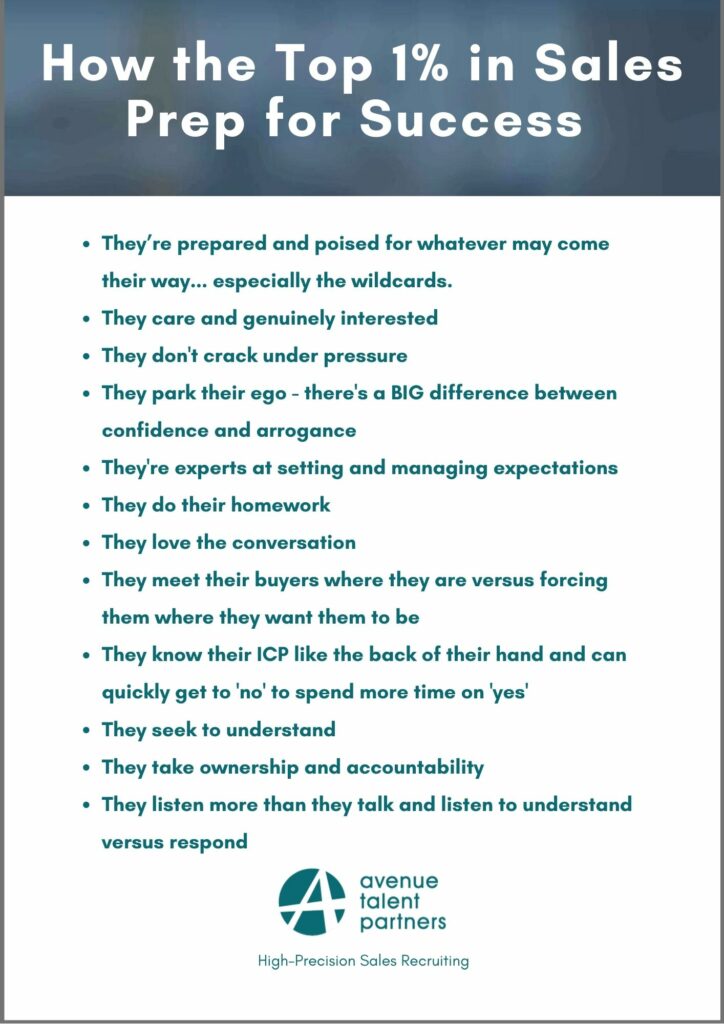 Interview process prep 101
As you think about interview preparation, it's important to first ask yourself, 'so what?'  
Why should the company talk to you in the first place?  How do your current and past experiences move their needle?  Putting yourself in their shoes to map back to how you can help them is foundational.  
From there, your research paves the road ahead.  Effective research includes:
Looking at the job description (if they have one) and go through the must-haves, understand why they're hiring, and pinpoint details back to the work you've done with clear examples of how.

Research the companies that have invested in them and what they're talking about.

The people involved in the hiring process and the content they're sharing or commenting on.

Leveraging LinkedIn to speak with people that have previously been in the role to get their point of view and experience.

Annual reports, top competitor updates, quarterly earnings updates, podcasts, YouTube channels, etc. are all wonderful ways to understand their business well beyond the surface.

Check out their LinkedIn company page and how people are engaging with it along with their Twitter and other social handles.

Google (free) and LinkedIn Sales Navigator (paid) saved searches are powerful resources to stay up-to-date on company news, new hires, published articles, etc.  
All of these items equip you with knowledge you can take with you into the interview to stand out from the rest.  That's how you'll knock their socks off and get your hands on that coveted new job.
Let's break this down in a role play, shall we? 
The first scenario:  Let's say the prospective employer recently hired a new COO.  Most people would say, "I saw you hired a new COO.  That's great!"  Polite, but it's a flat comment that doesn't do anything to communicate your value.
OR
You can take that news to create an open, informative discussion.
The second scenario:  "I see that you just appointed [name] as COO to help you launch the analytics side of your software.  It looks like she has 10 years with some of the best of the best in the analytics space, how does that fit within your go-to-market strategy on the sales side and how would that translate to the work we'd be doing together?"
See the difference?  It's all about taking the information you find and contextually understanding it so you can have an informed, collaborative conversation. 
Sales Presentations
Now that you've progressed through the initial steps of the interview process, don't be surprised if you have to do a sales presentation.  Hiring managers like to see how you'll be with their buyers and use this as a way of better understanding this side of you in the sales process. This is absolutely part of your interview preparation that you don't want to skimp on and it shows when you do.
According to Gartner, businesses will miss the equivalent of up to 10% of annual sales lost opportunities because of poor planning.  It's the same with your presentation prep for the interview.
My good friend, colleague, and client Scott Schwartz sat down with me to break down all the details of the sales interview presentation.  There's a ton of wisdom you can apply from this to help you get it right.


Asking the right questions  
Remember, this is an opportunity for you to understand more about the company, illustrate that you're listening and want to learn more, and show that you're taking the process and your career seriously.  There are no silver bullet questions to ask.  That said, ask questions that help you dig in to truly understand.  Questions like, "how many people are on the sales team" do you no favors.  Why?  You can easily look this up for yourself and it doesn't tell you much about the task at hand.
I recently talked to a VP of Sales candidate who showed up to the interview with 81 questions in a Google Doc that were directly related to the company, tied back to her own experience, and correlated to how she can help solve their problems.  Because they were having such a productive conversation, many of those questions were addressed to leave only a handful at the end.
This is the stuff hiring managers crave.  And if they're unwilling to answer what's important to you, it's a big red flag that should leave you questioning whether you really want to work there in the first place.
It all boils down to both parties understanding why.  Sales interview questions that map back to your life, career, and decision-making criteria are table stakes.  This is something you don't want to take a backseat approach to.  
Additional Tips to Ace the Interview
Start Journaling

Journaling is a great way to get clear and right with yourself and the work you're doing, along with looking back on your past work experience.  It'll help you focus, get more specific, understand what you want, and understand what you bring to the table. 

I have a simple journaling process that's helped me and then some throughout my career.  When you take the time to gather your thoughts and questions beforehand, it'll make you that much more prepared for the big stage.
Use a Scorecard

I live and die by the power of a scorecard… for both hiring and interviewing.  They act as a failsafe that can keep you on track during the sales interview process and ensure that you cover everything you need to make a well-informed decision. 

Your prospective employer isn't going to be upset with you for pointing to your notes to make sure the critical points you wanted to cover are incorporated in the discussion.  The best hiring managers want to know who you are, what's important to you, and how you can help them and their buyers so both parties can make the right decision.

If finding a dream job is a priority, the scorecard will be your best friend. 

I've written extensively on this in the past and created a template you can use. 


**Pro tip** Be sure to actually read the article, there's a ton of context for how to use the scorecard effectively.
There's no set amount of research to do

You could come across 3 juicy kernels of knowledge in the 20 minutes of research and that might be enough for you to connect the dots.  It's not about how much research you do, it's about the quality and context of that research. 
Walk in comfortable and confident

You reap what you sow as they say and the more you prepare, the easier it'll be to walk in cool, calm, and collected.  The best way to do this is to know what you've done and how you've done it like the back of your hand. Make sure you're able to get super clear and specific on:
📍Where you did it?

📍Why you did it?

📍Who you did it with?

📍How you did it?

📍What the outcome was?

📍How did the business get better as a result?

📍What lessons were learned that apply to the interviewer?
Have 2-3 power statements with specific examples for each.
If you struggle with confident communication, give Toastmasters a try.  It was one of the best things I did early on in my career and has absolutely helped me be a better, more confident communicator.
Things every candidate should be doing:
Read and follow instructions!

The video shared above was included as part of our prep for interviews for his team.  The sad part?  90% of the people didn't even watch it!  I'm telling you how to get the darn job!

It's baffling how common this is and it's a surefire way not to be invited back.
Send a thank you note

This is a great opportunity to illustrate that you've listened and care about the conversation you just had. 

I like to offer a little P.S. with mine to infuse something extra that shows you're excited about the prospect of working together.  You could give an industry tip, share an article, send a small gift, etc.  There's always some nugget to extract from the interview and build on in your thank you. 

Try to send it out within 24 hours and I'd strongly consider sending a handwritten card as well.  They make people happy and have much more impact – I have several cards on my desk as I write this!


**Also, asking for an email address that's included in the meeting invite isn't a good look.
Express gratitude

Whether you're happy about the interview or not, guess what?  You never know when your paths will cross again. 

Everybody likes a gracious loser.  Even if the job doesn't work out, don't forget to express gratitude, humility, and lessons learned to keep the door open.
Wrapping Up

As Benjamin Franklin said, "if you fail to plan, you plan to fail."
Remember, the goal of the best sales interview is to assess if both sides are a good fit for each other.
Pinpoint ways you can help, how you understand the task at hand, what you've learned through the interview process, and be graceful even if it's not a great connection.  
Every interview is a networking opportunity… even if you can't immediately see it today.