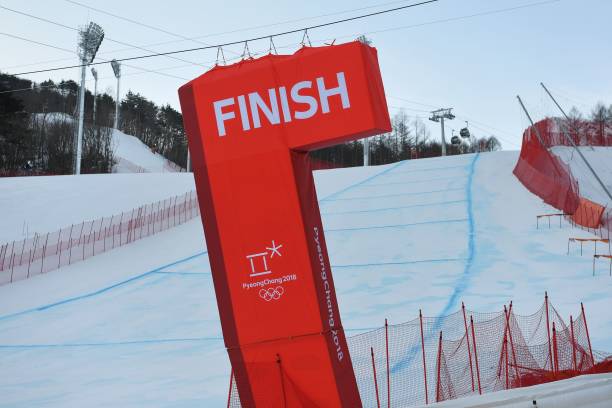 Olympic reflections, 3 MUST takeaways for sales gold.
It's not really a secret to those who know me… I'm a total Olympics junkie. Winter or summer, I love watching athletes at the top of their game compete.
I mean, can you think of a bigger stage or tougher challenge than winning gold at the Olympics? It's literally the best of the best from every corner of the globe going head to head… and the entire planet is watching. SO MUCH IS AT STAKE!
I think some of my love for it has to do with the fact that I'm addicted to the way these athletes prepare and deliver under pressure. And I love learning from them… I've found that applying some of the things they do (mindsets, ideas, etc.) have helped me succeed in my own pursuits in sales and entrepreneurship too.
There were a few stories in particular that stuck out to me during this year's Olympics. Here are three things that I think salespeople must learn from this year's Olympics if they want to crush it in sales.
1. You're competing against yourself first and foremost.
If there is one thing that Olympic athletes know they must do to have a shot at winning, it's solid preparation leading up to the competition. Those who prepare the smartest and hardest are those with the best shot at standing center podium when the snow settles.
But since everybody prepares hard, what makes the difference for those who win?
Answer: execution. All the preparation in the world can't win you gold unless you apply it when you need it most. And nowhere was this demonstrated more this year than with Czech snowboarder turned Super-G skier Ester Ledecka.
Ledecka entered the race ranked 43rd in the world and was considered by most to be a non-factor. Anna Veith (the leader at the time of her competition-ending run) was even celebrating her victory already before Ledecka started.
Then Ledecka blasted her way down the slopes and claimed gold right in the middle of it.
Sofia Goggia from Italy (who finished 11th) summed up what made the difference for her the best (courtesy of The NY Times): "She could never put it all together [before]. But today she did."
I think the Super-G is actually a good representation of what we do as salespeople. All of us are trying to cross the finish line (hit our targets) as best we can. But I think many salespeople go about this the wrong way.
Ledecka could have psyched herself out with what everyone else had done (she was the final run after all). But instead, she focused on executing on what she had trained to do… and did it so well that even she didn't believe the time that was on the board when she crossed the finish line.
Key takeaway: Winning in sales comes from intelligent preparation and beating yourself first and foremost while effectively shutting out the "noise" around you.
2. Finishing strong is more important than starting strong.
This year's Olympics produced one of the greatest shows of resilience I think I've ever seen in my life. After a crash at the starting line, Norway's Simen Hegstad Krueger came back to win the gold in the men's 30 km skiathlon.
How did he do it? He set mini goals for himself and then achieved each one in succession. Here's how he described it (courtesy of NBC):
"I was completely last in the group," Krueger said, "so I had to start the race again and switch focus to catch up with the guys. When I did it, I was (saying to myself), 'OK, take one lap, two laps, three laps and just get into it again."
Chances are, if you been in sales awhile (or at all), you know how tough it can be to keep pushing through when you feel like every door is getting slammed in your face. That rejection can be stifling at times.
But if there's one thing the best salespeople do better than everyone else, it's seeing it through to the end just like Krueger did. And they more often than not use the same methodology: setting mini goals or steps to reach in order to get to the finish line (their sales targets).
Key takeaway: You're never out of it until it is officially over. Keep looking for that edge in every "lap" and you'll get there. And if you don't on this "race", use it as fuel for the preparation for the next one. Learning from failure and applying those lessons is just as important as winning.
3. Surrounding yourself with the right support team is everything.
Chloe Kim was the youngest X-Games Medalist in history at age 13. So, it comes as no surprise that she ran away with the gold in this year's women's snowboard halfpipe after back to back 1080's… a trick no woman had ever done in competition before.
But she couldn't have done it without her dad (insert tear, I'm so touched by their relationship).
Chloe got her start at just 4 years old when her father quit his job to homeschool her after recognizing the talent she had for snowboarding. He literally dedicated his life to helping her succeed.
It paid off, and I think there's a great lesson here for salespeople and sales leaders alike in this story – the right support can make all the difference in your success and the success of your team.
Chloe Kim might have been the gold medalist in this year's women's snowboard halfpipe, but without her dad's dedication to her success (something that all sales leaders should take note of), she wouldn't be where she is today – on the center of that Olympic podium.
And budding salespeople should take note of how her father's influence affected her… without the dedicated support, she likely wouldn't have achieved what she has at the age she did (or at all).
Key takeaway: There's no substitute for strong mentors, coaches, and cheerleaders when it comes to your success. They can (and should) empower you to achieve more than you think possible, teach you the skills you need to go big, and clear a path for you to get to where you need to go when you can't do it on your own.
(Related: What world-class startup leadership looks like)
What stories from the Olympics inspired you?
These are just three of the stories that caught my eye this year. Truth be told, I had a hard time just picking three and know there are so many more out there that I didn't even touch on.
What lessons did you learn that you think could be applied to sales? Leave a comment below with what you took away from the Olympics!
Photo credit:  Getty Images