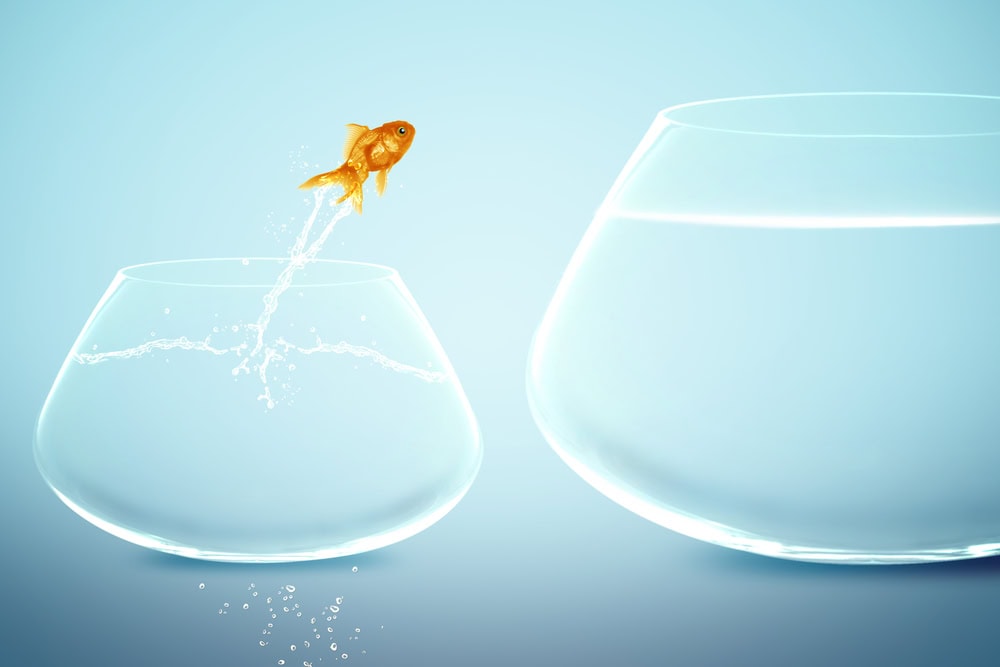 Sales is NOT a Necessary Evil: 3 Reasons Why Startup Founders Should Embrace Sales
Pushy, sleazy, manipulative… these are all words I've heard when talking to tech founders about sales.  Many of them believe that if you build a great product, then the sales will just come naturally.  
Here are a couple of quotes that showcase this mentality in action:

In 2016, Slack CEO Steward Butterfield stated, "I think we can get away without having a sales team in any kind of traditional way probably forever."
Same story for Palantir's CEO, Alex Karp.  He once said he'd only hire a sales team if investors forced him to.  Or if he was "hit by a bus."  Karp continued on to say, "Almost everyone here is an engineer. I'm a Ph.D. in philosophy. We have no salespeople."
It's a mentality that I've seen far too often with tech founders.  They're clinging to this idea of "us vs. them", as if the two –– technical and sales –– can't be aligned toward the same mission.  
I knew a co-founder who said the issue with sales is that they always go out into the market and OVERSELL the product.  This creates a situation where the sales team is out writing checks that the company can't cash, leaving the rest of the company to clean up the mess. From his perspective, sales made it harder to scale with unnecessary obstacles.
But he's missing the point entirely… A situation like this is BEGGING for leadership that collaborates cross-functionally, instead of siloed departments that aren't on the same page making the wrong assumptions. 
If a company doesn't sell its product or service, you don't have customers, and the company dies.  To sell a product you need the right people, in the right roles, doing the right work… sales is no exception –- it's as simple as that.  
This visual says it all: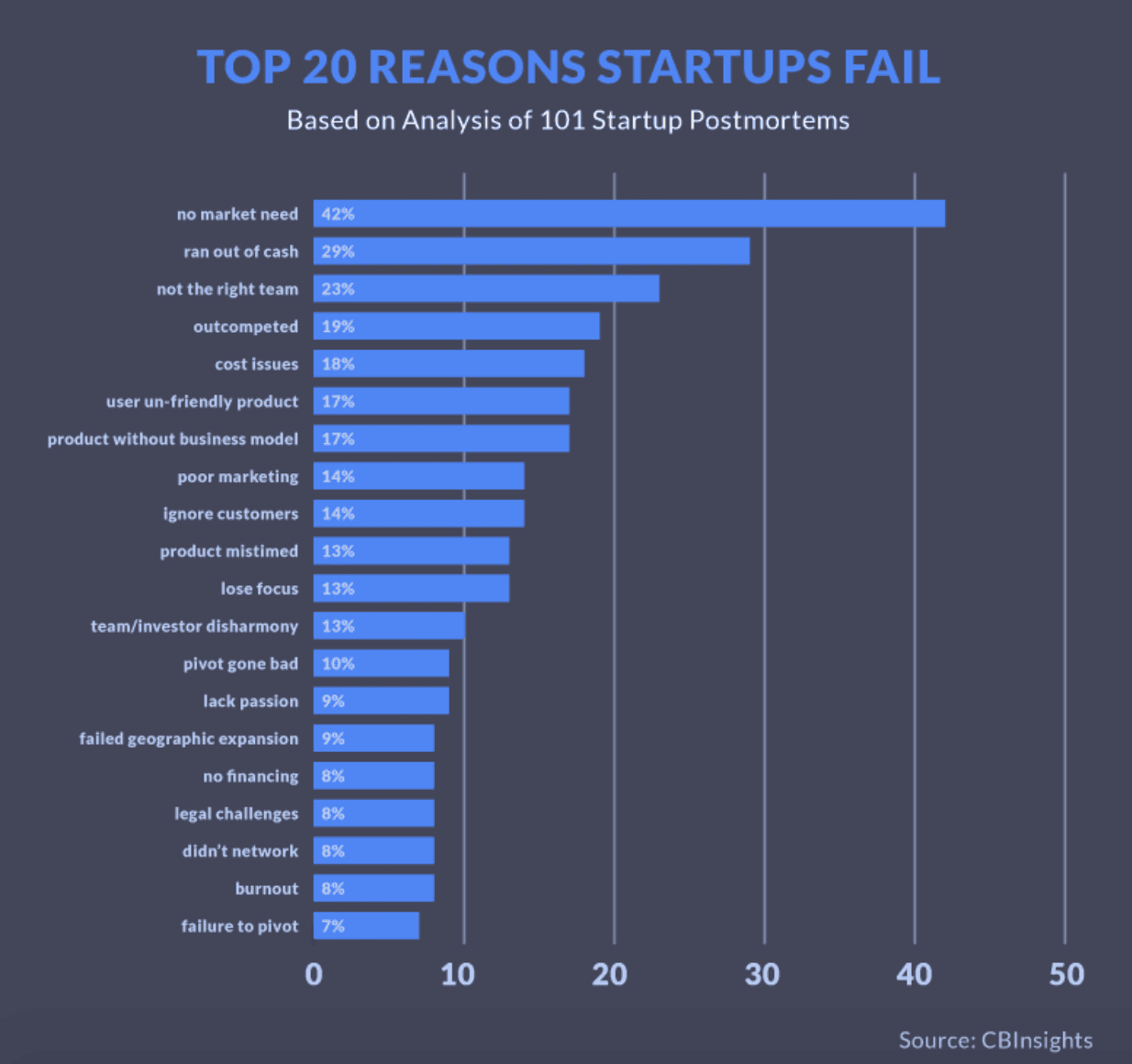 42% of startups fail because there's no market need for their product and that is directly related to sales. 
In those formative, early years at a startup, you need to fully understand your customer and their needs.  After all, you're asking them to give you money!  How are you going to get them to say YES without immersing yourself in the market and understanding them?  
Remember buyers care about:
Getting better

Solving problems

Reaching goals
The sales process gives startups invaluable feedback about their product and the market to do any of the three things outlined above.  From there, you can use that data to make critical adjustments.
This is why startups need to embrace sales.  The feedback you'll get is invaluable.
If you're a tech founder who despises sales, this one's for you.  Keep reading to see why sales is essential to scaling your startup to its full growth potential.  
1.  Sales Improves Cross-Functional Collaboration

Think each department of your company can do their best work without communicating with others?  Think again! 
It takes a village as they say.  You need everyone on the same page with the same goal… to delight the customer and deliver what was promised.  The sales leader, board of directors, CEO/Founders, marketing team, finance… everyone should be coming together to figure things out and be continuously aligned toward the same goal.  
For example, when we placed the VP of Sales at Funraise, they couldn't wait to onboard their new sales leader because he had already been working with leaders across the business to sink his teeth into the task at hand.  Before that, they had to over-index to fill in the gaps that weren't being addressed, creating more work and headaches for everyone else, hampering their ability to scale properly.  

Charles (the new sales leader) was being proactive and getting everyone involved.  He spent time with every person on his team, connected with the leaders of other teams, and came up with new ideas and strategies to keep everyone informed about his plan.  
It's a no-brainer –– cohesion across departments gets you better results.  And having a sales team in the mix provides invaluable knowledge that the rest of your team can leverage.  
Pulling together different perspectives across your company inspires innovation and fresh ideas –– the kind of stuff that's essential for long-term growth!
So, how can you build a cross-functional team?  Here are a few ideas:
Encourage diversity: 

Research has shown that

increased diversity leads to more creativity, innovation, better decision-making, and better employee retention.

Create opportunities to bring people together: 

Google is well-known for intentionally creating lines in their cafeteria and snack areas so employees from different departments will come together and chat.  You could also schedule more company-wide events, have a monthly lunch with team leaders from different departments, or organize a volunteering initiative.

Develop goals and incentives that reward cross-functionality: 

Most companies design incentive structures around goals related to specific departments.  But you can also shift this to base incentives around broad, company-wide goals.  That way everyone is feeding back into your big vision.  

Create a culture of accountability:  Just like customers, employees don't like to be left to their own devices. They want to know that they matter. They want to know that they have a place where the work they're doing matters, they want to know that you value them, and they want to make sure that they'll continue to grow and thrive at your company.  That's how you keep them.  Take care of your employees and they'll take care of you AND your buyers.
This comment from one of my LinkedIn postings about the relationship of tech founders and sales summarizes it nicely: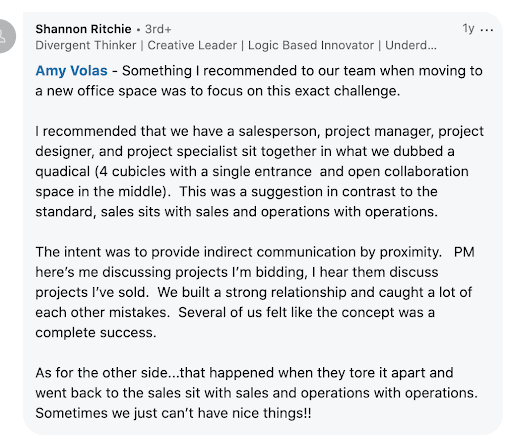 With a little ingenuity, there's no shortage of ways to get your teams collaborating!
2. An Effective Sales Team = An Improved Customer Experience
If there's one thing that remarkable salespeople are great at (though there are many!) it's building relationships.  
Building relationships with your customers –– and understanding their pain points, needs, and goals –– is the only way to build a product that has a real market value.
Let's be honest, there's usually a HUGE gap between the actual needs of the customer and what the product is designed to do, in the minds of the tech team.  
Remember the chart in the intro of this post?  42% of startups fail because they didn't meet a market need.  
Well, how do you know what the market needs if you're not engaging with the market?!
Peter Levine said it well:

"A formal sales function promotes the value of a product to an organization in ways that individual adoption and usage can't. They demonstrate the importance of features across the board, including criteria-setting, pricing, and packaging that lets you unlock more of the value you're materially creating for that organization with your product. The result is greater penetration into the enterprise, higher product appreciation, and more revenue from a given customer."
When an experienced sales team champions your product to customers, your customers end up reaping all the benefits from it that they can.  
A better customer experience → stable long-term revenue → reinvestment to improve your product → attract more customers.  Rinse and repeat.  

However, there is a caveat to this: hiring the wrong sales leadership can be DISASTROUS for a startup.  If you don't bring on the right people to build your sales function, it could cost you a TON of money (think 7-figures) in the long run and ruin your chance of success.  
Develop a bulletproof hiring process and stick to it!
3.  You Can't Maximize Revenue & Growth Without Sales
Lots of tech Founders love the classic "bottom-up" sales strategy –– i.e. just build a great product, put it out there, and let the customers come to you.  After all, it's a great way to keep them far from the sales approach that they despise… 
Typically, this "bottom-up" approach works out alright in the early days, especially with highly transactional sales, but eventually, growth will taper off.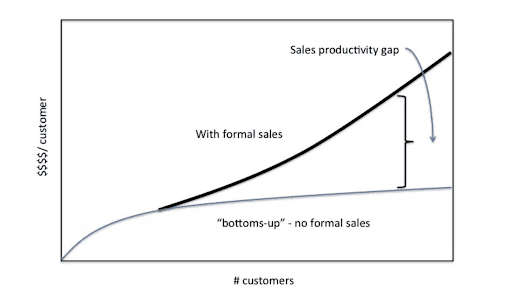 Twilio –– a Silicon Valley cloud communication platform –– is a great example of the difference that an experienced sales team can make.  
They had slow and steady growth from their launch until Q2 of 2017 when they decided to build an enterprise sales team.  Their stock price had been hovering around $30 per share for most of the year.  By the end of 2017, they'd generated $399M in revenue –– an increase of 44% from 2016.  
Then their FY2018 revenue shot up 66% to $650M.  Fast forward to today… their share price hovers around $250 per share –– an 833% increase in just three years!  
Not every venture is destined to be a unicorn, but in Twilio's case, the results from adding a sales team rang loud and clear.  
Sales accelerate product adoption, creates a trail of satisfied customers, and lays the necessary groundwork for long-term growth.  
Wrapping Up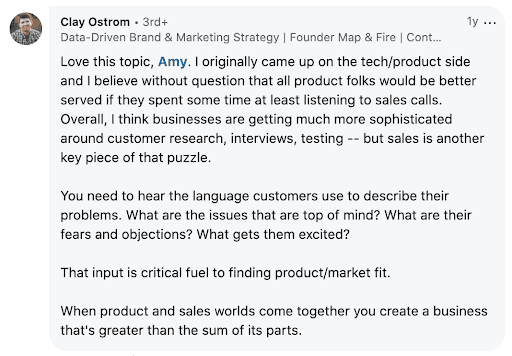 "When product and sales worlds come together you create a business that's greater than the sum of its parts."  Music to my ears!
To all the techies, Founders, and CEOs out there: embrace sales!

Your success is dependent on a deep understanding of your market and an effective sales team is what will get you there.  With the right team, they'll do the right work, with the right people, and consistently spread your vision far and wide, while ensuring that your customers maximize their investment.  You'll fully understand your growth opportunities and boost retention to fully realize your growth potential for the long haul.
I've said my piece.  Now it's your turn…
What are your thoughts about the relationship between the business and sales?