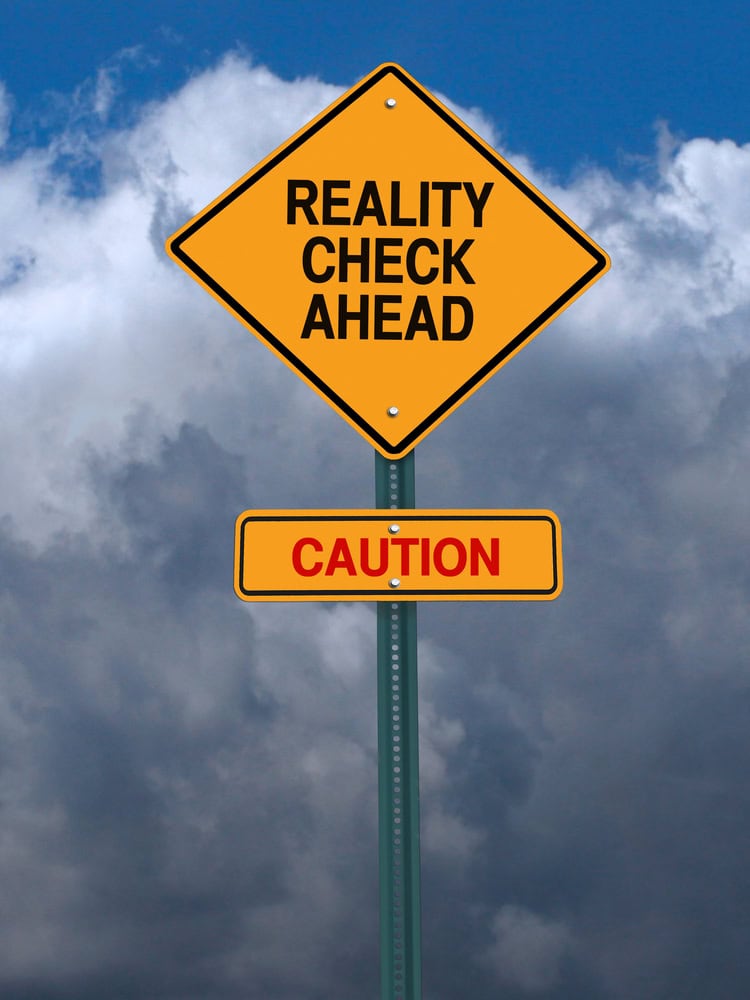 3 Sales Hiring Myths For Startups
In today's market, understanding what salespeople want in their next career move is imperative.
Truth be told, I find that most companies don't, even though they'd argue otherwise. 
For example, while working in the HRTech space (which is a small world where those of us in enterprise sales knew each other) a well-known brand approached me about joining the team after they asked a client who their favorite salespeople were. 
I entertained a few conversations, but never considered it further because each time, they'd talk to me about all of the things they thought were important (their amenities of working in the office, big budget to entertain clients at big events that none of my clients wanted to attend, a team-based sell with more people involved it was confusing to me, etc.) but none of that was what mattered the most to me:
They had a no remote work policy (I was fully remote) 

My commute would've been brutal 

Our shared client didn't have terrific things to say – especially on the team based sell front, it created unwanted friction and confusion

They had their set way of approaching the buyer journey and I'd have no voice or creativity
Plus, I was happy/thriving where I was. And, they never asked what I cared about… they assumed and talked at me to sell me on the job. No thank you dot com.
Here's the thing – misconceptions and assumptions make it a lot harder for companies to hire the talented people they need to be successful for the long haul. 
Before we dig in, it's important to understand the reality of the market.
Today's landscape
While it's not all doom and gloom, we are in a bit of a sales crisis.
According to LinkedIn, sales is one of the most in-demand jobs up by 45% since 2019.
But it's not easy, our economy in the U.S. is growing at its fastest rate since the early 1980s and the supply versus demand issues in sales we saw pre-COVID-19 is alive and well.
Combine this with the fact that 57% of salespeople are expected to miss their quota this year (Salesforce) and the average tenure of a sales person is 1.5 years down from 3 years in 2010 (Bridge Group). Couple this with the fact that today, only 8% of salespeople can report that kind of longevity. It's alarming that salespeople churn at 3X the rate of any other role.
Not to mention the lack of onboarding and enablement to hang on to the salespeople you worked so hard to hire in the first place.

The cherry on top?  According to Jason Lemkin from SaaStr, the majority of first VP Sales in SaaS startups don't make it 12 months.  My heart just sank typing this as it's a 7-figure problem that doesn't easily go away: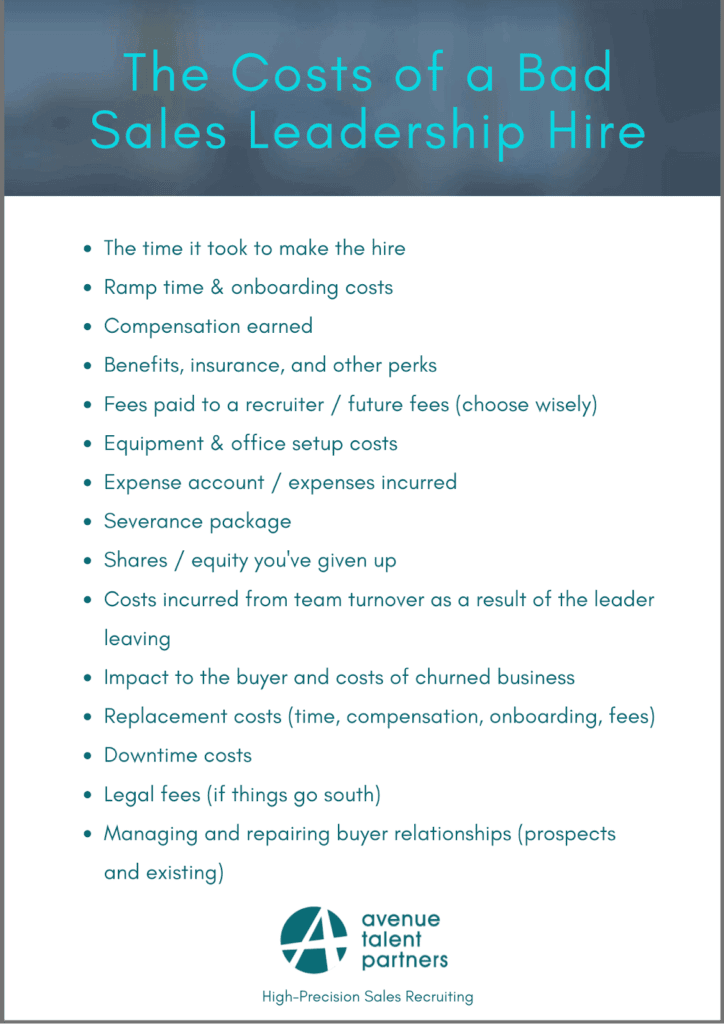 All that being said, these are the top myths that harm my clients and prospective clients the most  – and what to do instead.
Myth #1: Sales is coin operated
I wish I could say that the wolf of Wall Street image of salespeople ringing gongs and doing whatever it takes to rake in the cash was dead. But sadly, it's not.
That said, it IS a serious misconception to think that top VP of Sales and salespeople are motivated by money first and foremost. In fact, comp is far from being first on their list. 
Don't get me wrong, sales leaders and reps care a whole lot about money!
The savviest VP of Sales and salespeople that you'd drool over to hire realize that the foundation needs to be set first (leadership, culture, market fit, territory, and growth) before the money can follow.
Great example – an enterprise sales candidate we placed took a $20K pay cut simply because the product/market fit was on point and the team she'd be working with was what she'd always hoped for. 
And she turned down two offers at her previous base (or higher) to do so.
And it's paid off! She knew she could make it up and then some. Her comp plan and accelerators have her still there almost three years later as the top sales rep for her startup, making more money than she ever imagined.
She's not a one-off case either… one study by Glassdoor shows there are 5 things most people care about before comp: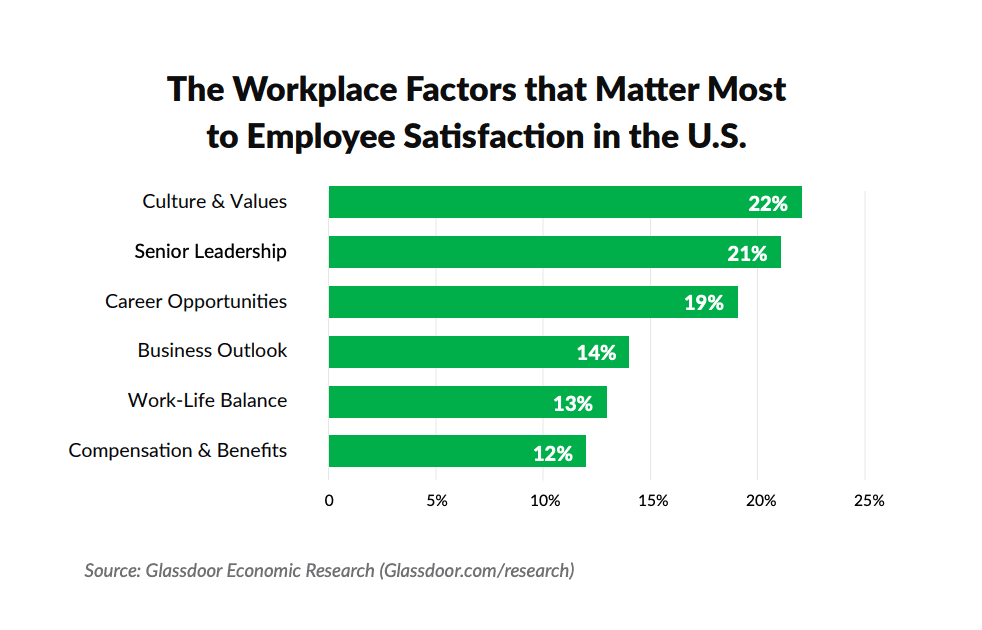 The right way to think about compensation
Simply put, compensation is table stakes. If it's not sufficient enough, you won't be able to attract talented people.
But money alone won't keep talented people with you forever. Scott VanderLeek explained it well on a recent post of mine: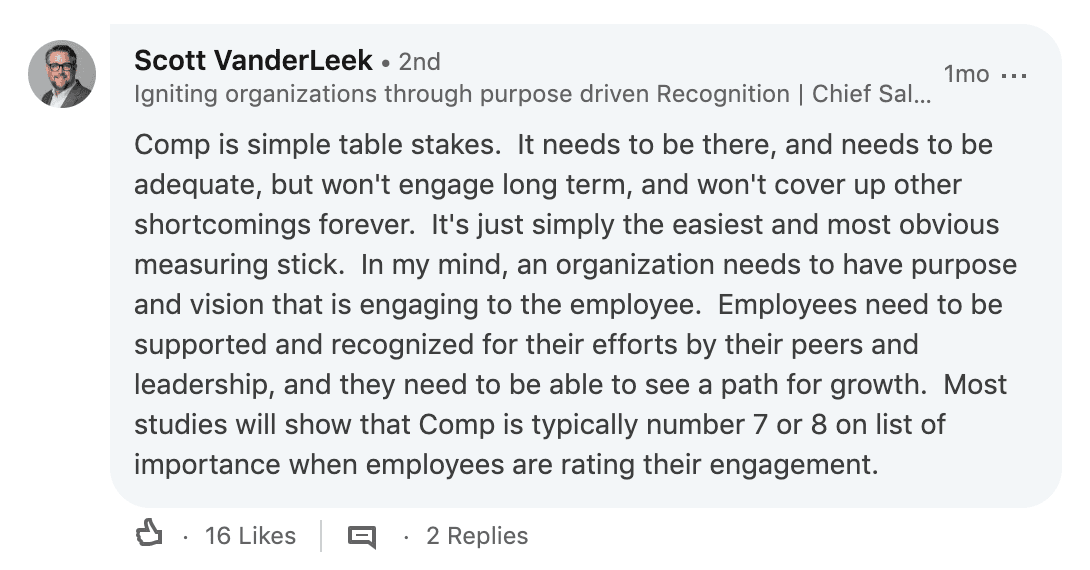 One last thing to keep in mind regarding comp…
Places like Payscale, Glassdoor, or the multitude of sales communities will give you ranges and averages to help you know "what to expect." But in my experience, those are often horribly inaccurate.
There are a lot of variables to consider regarding what a salesperson is worth – location, industry, and (most importantly) how talented they are. Think of each of those variables as levers you can pull to provide a compelling offer that they'll drop everything to accept.
So keep in mind that the market will always speak loudest regarding compensation and that not all VP of Sales or salespeople are created equal.
Myth #2: Candidate experience is pointless
Sales leaders and top performers think about interviews like a first date… they know people are typically on their best behavior and if it isn't great, it's probably not going to get any better with time. 
This means how you treat them is crucial – they're evaluating you just as much as you're evaluating them… every step of the way. The "how you do one thing is how you do everything" saying rings true.
Put yourself in their shoes: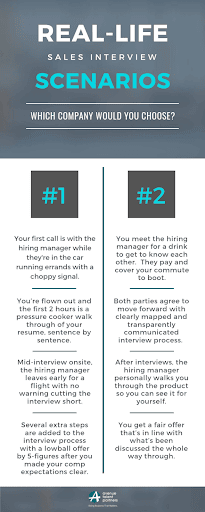 Let's not forget, the market is insanely competitive and they have a plethora of options.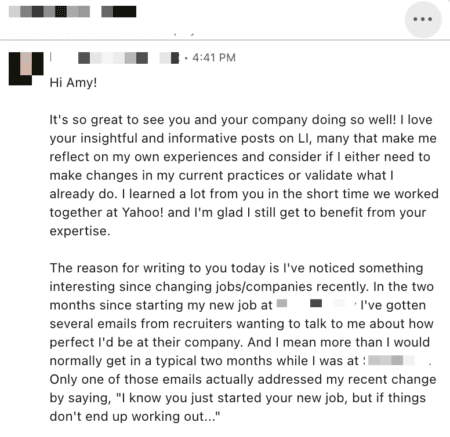 How to create a better candidate experience
Glassdoor revealed what candidates care about the most (along with what's lacking) during the interview process:
58% want a company to communicate with them clearly

and regularly during the entire hiring process.

53% want a company to set out clear expectations

for them so that they could prepare well.

51% want feedback

from the company, even if they were not successful candidates.

45% want companies to clearly explain the interview process

and stick to it without changing things up.

43% want a simple online job application process

that makes it easy to be considered for the role.
From my own experience, numbers 1, 3, and 4 are where companies most frequently fall short.
So while all of the above is critical, focus on these in particular for the biggest impact.
Struggling to figure this out?
Embrace the Golden Rule and ask yourself: 
What kind of feedback would you want to have from an interview?

When you would want to receive that feedback?

What would it feel like to be left in the dark?

What are the things that actually matter to your success (not the petty stuff)?

What questions would you have regarding a company you're interviewing with?

What would blow your socks off to make you turn down every other role?

How would you feel if the roles were reversed?
Assumption #3: I made the hire, my work is done
I hear horror stories daily where startup leaders hire their dream candidate only to have them slip through the cracks at the last minute.
For example, one of our newly minted clients came our way after taking a year YEAR to find their perfect VP Sales.
But after the offer was accepted, they didn't communicate very well with the candidate (in an effort to give them the space to tie up loose ends).
Days before the first day, the call came that the chosen one was staying put.
This story is especially common today when the market is as competitive as it is.
So once you have an accepted offer:
Keep the candidate engaged

Meet to plot out the road ahead

Talk before and after the resignation process

Communicate expectations

Have others on the team jump in

Think of yourself like the concierge at the Four Seasons and roll out the red carpet
However, you can't stop there.
Don't forget about onboarding

Hiring the right people is just as important as developing them. My favorite phrase, 'you reap what you sow' rings true.
Sadly, many companies underestimate the importance of the onboarding process. In fact, 22% of companies don't even have one.
However, onboarding is especially crucial in sales, when it comes to ramping. 
Ramp speed doesn't just affect how quickly they're producing revenue for you… it also affects how quickly they start getting paid.
And if it takes them too long to start making the money they were hoping for, the likelihood of them sticking with you drops significantly – in fact, almost by half, according to CSO insights/Brainshark.
So make it easy for them to get up to speed with a well-designed onboarding process that paves the way for success. 
Kyle Coleman from Clari did an incredible job outlining his approach to developing and supporting his SDR team post-hire via LinkedIn: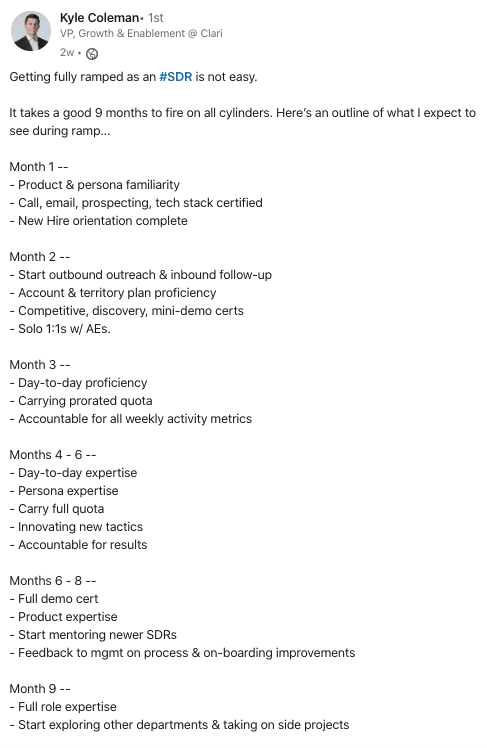 Give 'em what they want 
In this dynamic and competitive sales, startup landscape you have to focus on what your potential VP Sales and sales hires care about if you want to recruit and retain the best sales talent. It's A LOT more than comp – the best care about your culture, mission, leadership, and ability to move the needle for your buyers:

Focus on these things and watch your turnover problems dissipate while being a magnet for the cream of the sales crop regardless of how competitive the market is.