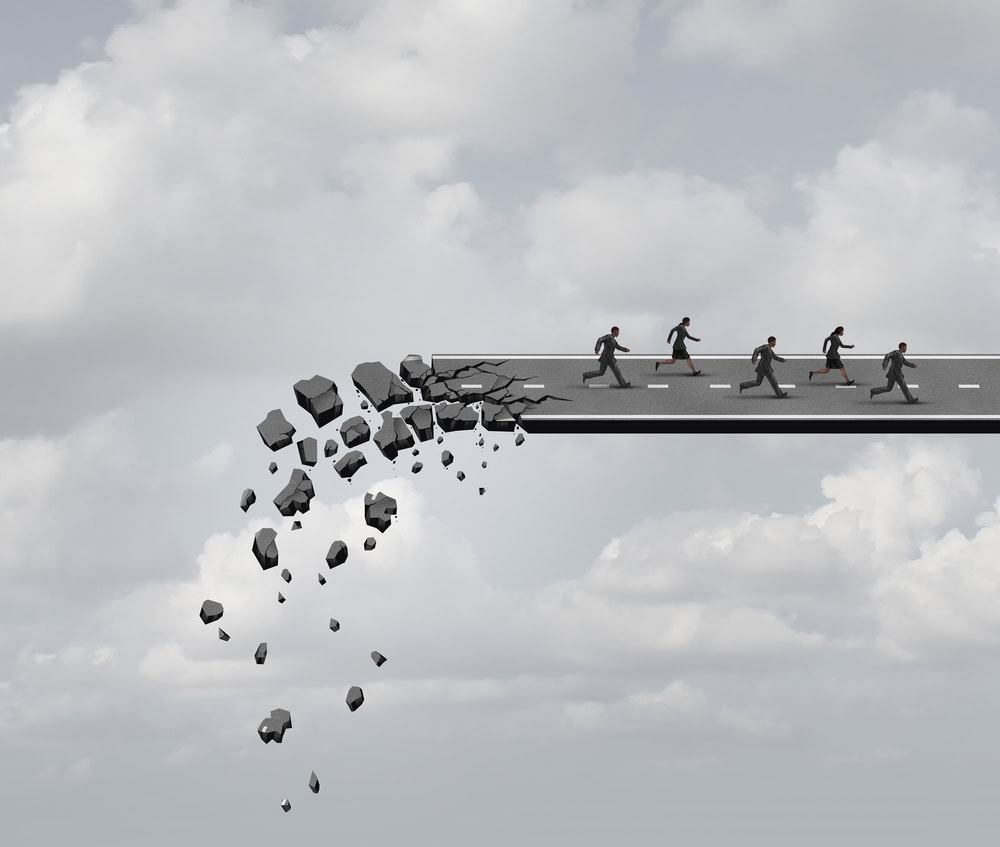 Why Turnover Is Out of Control in B2B Tech Sales
I'm deeply troubled by the fact that sales turnover is nearly 3X more than any other field, the average tenure of a VP of Sales is 19 months and shrinking, and we're in an extraordinary market where we have a severe supply versus demand issue for top talent. 

Sales is one of the hardest roles to fill.  To make matters worse, it's one of the most in-demand roles, and yet we can't keep the talented people we worked so hard to hire in the first place.  
According to LinkedIn, the sales director position is one of the positions with the fastest growing demand (60%).  But for employers, it's increasingly difficult to hire great salespeople and sales leaders.  Ineffective interviews, icky candidate experience, horrible communication, and a lack of clarity on scope = so much opportunity left behind. 

It's messy ALL the way around the table and a multi-dimensional problem.
A quick caveat: turnover isn't all bad.  If you've given it your best shot and have an underperforming employee, sometimes it's best to cut the cord and move on. 
However, no matter how you look at it, turnover is expensive… especially at the VP of Sales and above level.  
The chart below illustrates how an employee's value to an organization grows with time.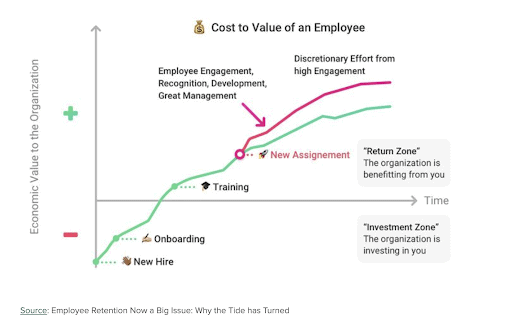 So the more senior the sales role, the bigger the financial hit if they leave.  Factoring in all the administrative costs, the cost of lost time, the cost of lackluster performance, lost productivity, possible severance pay, recruiting costs, onboarding, training, more turnover due to having the wrong leader in place… the dollars add up fast.  
A study by Deloitte found: 'The cost of losing one employee can range from tens of thousands of dollars, to 1.5-2X their annual salary'.  Truth be told, I find those numbers are conservative… My data reflects a 7-figure dilemma when you add up all of the costs.
But wait… there's more: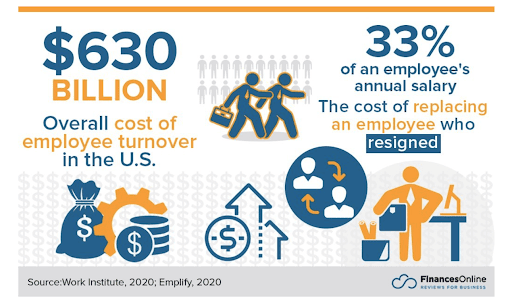 So here's the secret sauce.  Once you invest the time and resources to onboard top B2B sales talent, you better be sure you're incentivizing them to stick around.  
As Sir Richard Branson said it so very well:
"take care of your employees, and they'll take care of your business."
Are you truly ready to scale?

Founders often think that the second they get funding it's time to go on a hiring spree to throw bodies at the market and see what sticks.  Eeek!
This is what I'm talking about when I say there's a massive disconnect between perception vs. reality when it comes to scaling.  
My friend and colleague Jake Reni said it best:

"Sometimes we try to solve problems by throwing more bodies at it thinking if we just get more reps in the market and create more pipeline, we're going to solve our problem. But in fact, our customer acquisition cost goes up. Then we run out of runway and before you know it, we have to lay off 40%-80% of our sales force."
The playbook here is simple… there is no one-size-fits-all playbook.  It's about the right people, in the right roles, doing the right work for your marketplace, segment, and customers… consistently.
You need to look for the best candidates for the specific job you need done, NOT baseless templates that you're tempted to force them into because that's 'how you SaaS'.
If you haven't established a clear product/market fit, along with a repeatable and reliable sales process, you're not ready to scale.  No matter how much funding you raise.
As Wil Schroter from Startups.com eloquently stated:
"Only Revenue Validates Staffing. Of course, closing a funding round is worth a celebratory dinner, because fundraising is hard and the new funding helps accelerate our goals. Finding some great talent and convincing them to join our band of misfits is a wonderful validation that others care about our mission, and it feels good.

The problem is that none of those milestones validates our actual business. Convincing investors and staff to join our ranks will never, ever pay our bills. It's a great play with positive yardage, but unless that completes with a touchdown, we're still scoreless.

We need to look at all of these milestones as the liabilities that they are, not just steps forward. That investment needs to be paid back, and that staff is eviscerating our bank account. Until we start putting money back into our account, we're not successful at running a startup, we're only successful at spending money."
So what do you do instead?
You hire for YOUR specific growth stage and the actual work that needs to be done given the demands of your marketplace.  This is one of the biggest keys to employee retention.
For example, take a VP of Sales from a D Round company that recently IPO'd.  This sales leader has high-level management experience for established sales processes.  In short, they can take an existing sales function and ramp it up to 1000. Think maintenance and a different kind of growth versus building, nailing, and scaling.  Regardless of the growth story, it's a big difference in practice.
You assume an incredible amount of risk if you hire them to build out a sales team AND try to establish a market fit for your product at the same time.  
Let's not add to the statistic that 75% of initial VP of Sales hires fail within the first 19 months.  Be laser-focused about where your company stands today, your true market fit, ideal customer profile (ICP), sales process, and everything in between.  
When you're intentional and honest, you'll know when it's truly time to scale. 
Jen Abel from JJELLYFISH puts it precisely:
"You should only bring a VP of Sales on board when you know your business is in a place for them to be successful and you are in a position to scale. These typically include: Series A, > $1MM/ARR, and defined process."
If you slow down, think through your strategy first, and lean into intentionality, you'll be able to go a heck of a lot faster later.
Top reasons high-performing salespeople leave

Competition is fierce in tech sales.  After you make a great hire, you can't just sit back, relax, and watch the sales numbers roll in.  The accepted offer is just when the party is getting started.
You have to make sure you're creating an environment for them to thrive, succeed, and benefit from.  
The top reasons why sales leaders and salespeople leave:
Issues with leadership/lack of strong leadership. It starts from the top down, always.

No true seat at the table (VP of Sales)

Product-market fit. If this is missing, it doesn't matter how strong your sales leader and team are, they won't be able to sell anything.

Getting bogged down in everything but time with the buyer, especially administrative nonsense and unnecessary meetings.

Lack of infrastructure support as the business grows (VP of Sales)

Lack of sales tools/process/support

Too many changes and no clear understanding of why

An us versus them mentality, sales being treated like a necessary evil to be pushed in the corner

Lack of opportunity 

Compensation challenges. According to benchmark data from SiriusDecisions,

89% of sales reps leave because of compensation issues

. Think:

Unrealistic quotas

Dramatic quota increases 

Making it difficult to get paid and a compensation plan that requires an algorithm to decipher it

Late payment

Bait and switch… what was originally promised in the interview process, fell short in practice.

Recruited to a better opportunity elsewhere
Top-performing B2B salespeople and sales leaders get shiny offers from other companies constantly.
So once you make the hire, create an exceptional onboarding plan, communicate early and often together, create the ideal environment, sales targets, compensation plans, opportunities, and support for them to stick around for the long term.  Hiring is just the beginning of the relationship. 
Remember, what you put into something is what you get back from it. Your employees are no different.
How to solve the turnover dilemma
Fix your hiring process
A big chunk of the turnover issue can be solved by:
Hiring for your specific growth stage

Hiring for the work that needs to be done for your business and marketplace

Optimizing your hiring process to bring on the right people
Before you jump into hiring for your next phase of growth, take a step back and take the time to fully assess your company's current position, needs, and growth targets.
Once you're crystal clear on exactly who you need to bring on, you can build a systematic hiring process that funnels the right people in the door.
Create a systematic, efficient hiring process

Whenever you're hiring, you need to be sure that your hiring process is optimized to bring in the right people.  Use a hiring scorecard to help you identify and stay true to the criteria that makes sense for the role and your business versus getting caught up in stories you're telling yourself that aren't rooted in reality.
There are an overwhelming number of shades of grey in sales. It's important to design a process that helps you cut through the clutter to find your best shade to shine bright for your startup.  Doing this will help you avoid the shiny object syndrome running rampant in sales hiring. 
To do this well, take the time to be clear about what you need and then create a systematic, efficient hiring process that's centered around it.  When you find that gem of a candidate, you know they'll fit right into the role and you can move swiftly to hire them. Remember, time kills deals and waiting for the grass to be greener will slow you down while missing out on incredible talent.
Design a winning post-hire, onboarding plan

Your sales onboarding process is one of the most powerful revenue-generating tools you have in your arsenal when you are scaling your team. 
That's because the better you onboard your new sales hires, the faster they will ramp… and just 2 months can make a massive difference in your ARR.
Design a plan that you can communicate during the hiring process to avoid hidden surprises while understanding any important missing bits and pieces. Remember, people want to be seen, heard, and understood. This is a great way to do that well.
Incorporate things like:
Making sure all equipment is ordered and ready by day 1

Access to tools and technology are in place

Creating a buddy system with other members of the team

Training

Proactively communicate agendas for the week

Immerse them in the business to spend quality time with other departments like Marketing, CS, Product, etc.
Don't believe me? Check out the data from Gong.io below that illustrates this: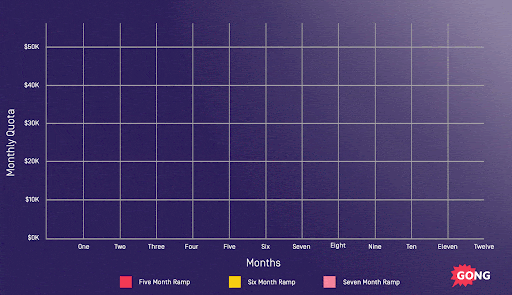 That's an $80k+ difference from a 2-month change in ramp speed… imagine this over 10 reps!
Offer a clear plan for growth
Tech sales is an industry that moves fast – especially for high-performing sales reps and startups.  If you don't present a clear roadmap for career growth, top performers will feel like they're stagnating.  
For example, have your sales leaders forecast the sales funnel for the next year, highlighting key deals in the pipeline.  This helps forward-thinking high performers see that there's room to grow. 
You can also offer ongoing training for reps to build up their skills or offer mentoring from senior executives in the company. 
A long career involves a mix of learning, fulfillment, and opportunity.  Offer it all and you'll keep those high performers interested!
Pro tip:  Start talking about this in the hiring process, incorporate it into your 1:1 meetings, and stay close to key milestones to help them achieve their personal development and growth goals.
Show your appreciation

Building strong relationships with your sales team is absolutely imperative for longevity.  So whenever your employees are performing well, be sure to thank them for it. Yes, that includes your VP of Sales as well. 
Give credit where it's due versus sucking the life out of the team to take all of the credit you don't deserve and didn't earn.
The appreciation you show can also extend to a public setting within the company.  For example, you could feature standout reps in an internal newsletter or host a quarterly event that shines a spotlight on top performers, a special social media shout-out, etc.
And more simply, a thoughtful gift to show them you care or an unexpected cash bonus goes a long way. 
Back your words up through meaningful action.
Most importantly, show them you have their back and that they have a voice.
Provide fair compensation and goals

If your compensation doesn't meet or exceed the market, your sales team (including leaders) will have little incentive to stick around… especially after a tough quarter and a lucrative pitch for the next best thing comes their way.  
Beyond compensation, the sales targets you set should be reasonable and attainable without a soul-crushing, unrealistic effort.  Burnout = resentment, and will push your employees to start hunting for a job that treats them better.
Bottom line, incentivize the behavior you want to see where both parties can win together.
Wrapping Up

Turnover is a reality of B2B, tech sales, but it doesn't have to break your startup. 
Take the time to plan your growth strategy, be intentional with your hiring process, make sure you're aligned, don't get caught up in the shiny objects, show your employees you care, and you'll minimize turnover in the long run.

Once you succeed in the hiring process, it's time to back up the big statements with meaningful action to commit to their longevity and growth. When you invest in them, they'll invest in you and your buyers.

That's the recipe for a productive and fulfilled sales team that's excited to help you build and grow the company for the long haul.