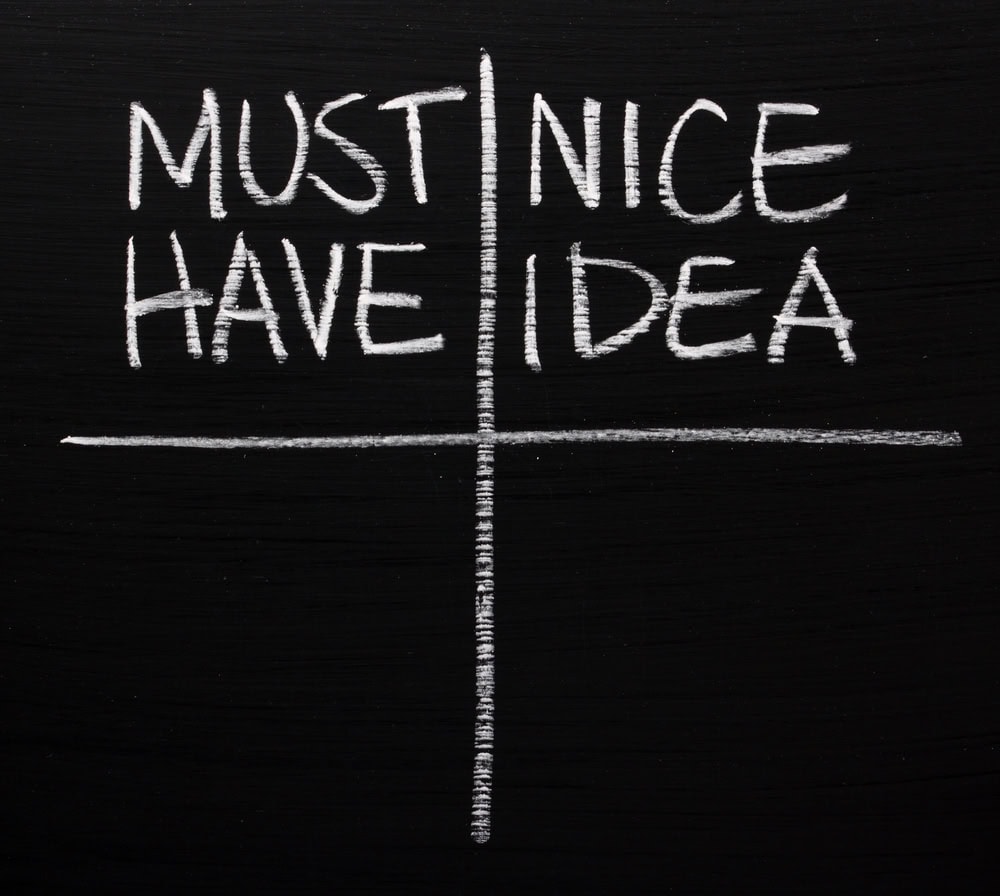 17 Key Enterprise Sales Resources for Startup Founders
Enterprise sales can seem daunting for founders who aren't already experienced with it.
However, take it from someone who has made a 20-year career with enterprise buyers… it is within your grasp with the right foundational knowledge!
It just takes an entirely different mindset and approach than SMB sales (where most tech founders start). And that's the first place most get tripped up.
I've watched this difference completely derail sales efforts for founders leading teams. I've also seen founders who are taking on their sales efforts themselves struggle because of this.
So whether you want to start selling to the enterprise market yourself as an early-stage founder or just learn more to better enable your team, here are the foundational resources I'd recommend checking out.
Must-Read Articles and Blog Posts.
These are specific pieces of content that tackle common misconceptions, important mindsets, and specific tactics that can boost your success in the Enterprise market.
They are the best place to start!
1. What is enterprise sales? Your definition could make or break your success…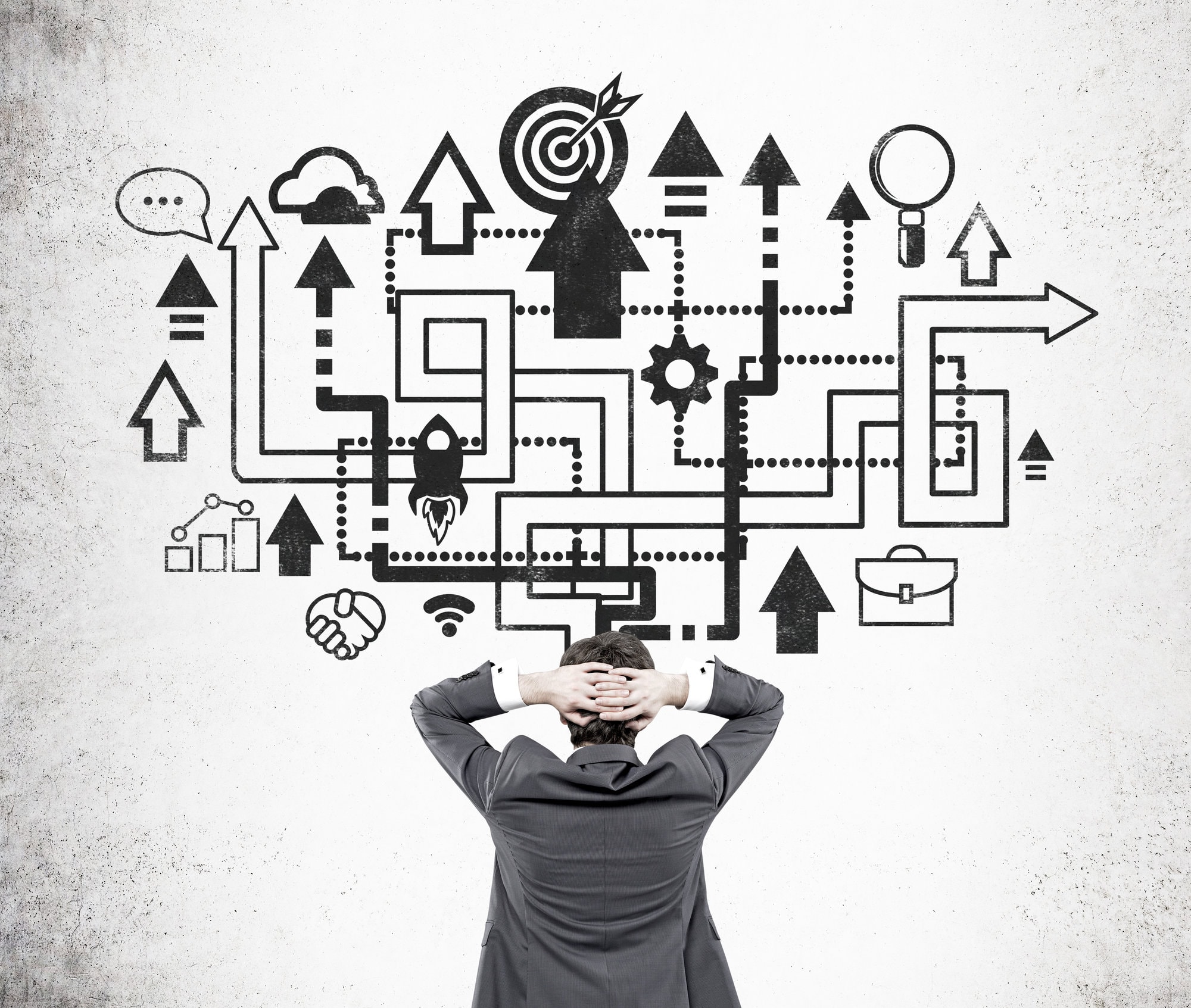 Yes, something as simple as the way you define Enterprise Sales can totally change the outcomes of your efforts in this market.
In fact, I've seen (and experienced) many businesses with huge potential tank their efforts because they got this wrong!
That's why I've written an article on the ATP Blog to clear up how we should define Enterprise Sales if we want to set ourselves up for success.
Mindset matters most!
READ: What is enterprise sales? Your definition could make or break your success.
2. How to sell to the enterprise market as a founder.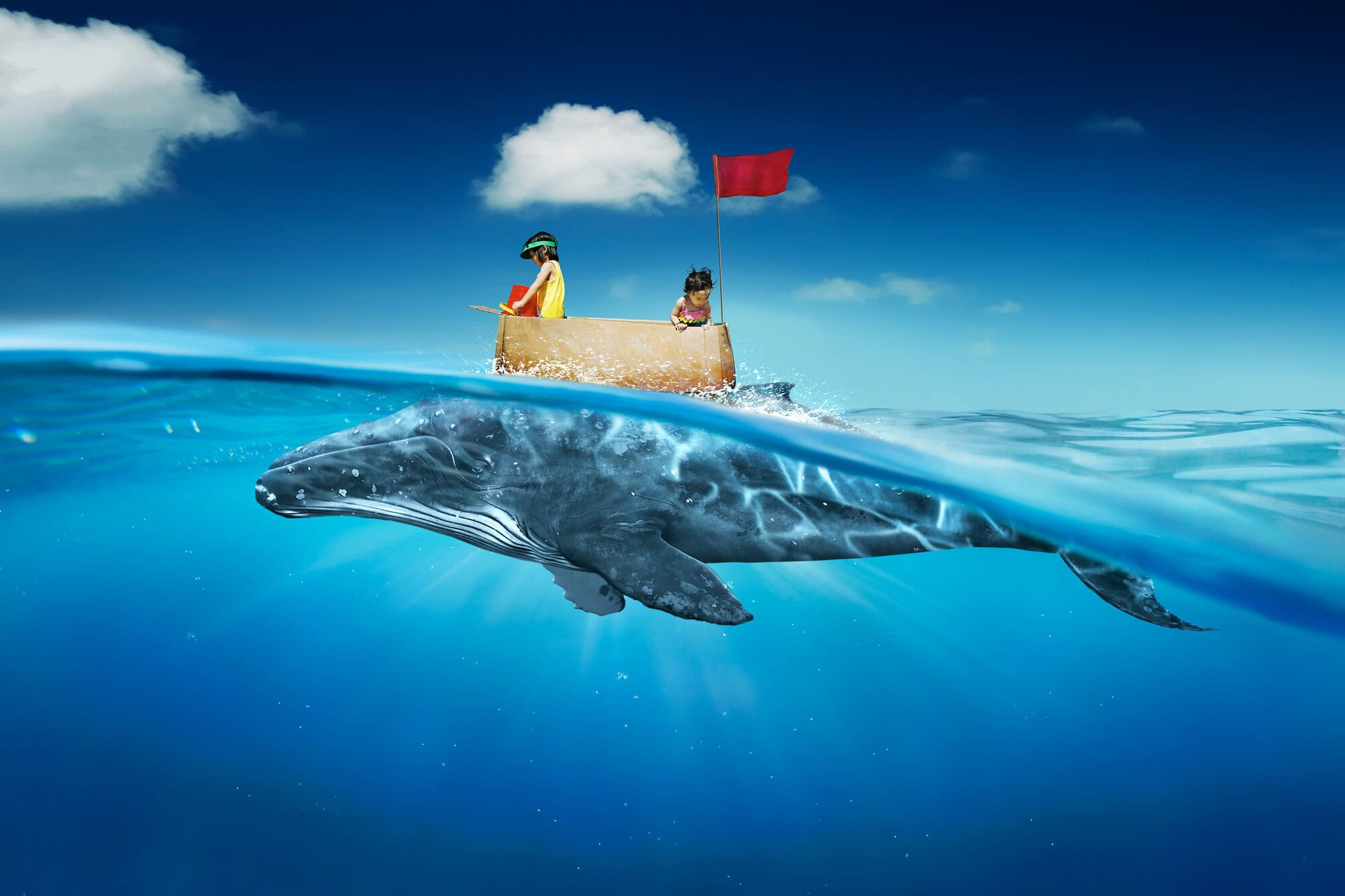 Here's something you'll rarely hear a sales recruiter say:
"You're better off selling yourself first instead of hiring a team or salesperson."
But for startups at an early stage, this is the approach I usually recommend for two reasons:
It saves you money while providing you with valuable insight into the world of your buyers.

It protects you from costly mishires (150%-200% of an enterprise salesperson's salary according to Deloitte).
Most startups at the early stages don't have a lot of cash and good enterprise sellers are not cheap to hire. 
And since hiring someone to "build it for you" when you haven't done any selling increases your chances of a mishire, it's much better to tackle it yourself on the first go-round.
Don't worry, this is more doable than you think. And I've written an entire article on the blog to teach you how… including tactics and misconceptions that trip most up.
READ: How to sell to the enterprise market as a founder without prior experience or a budget to hire.
3. How to sell to the enterprise market when you lack brand recognition.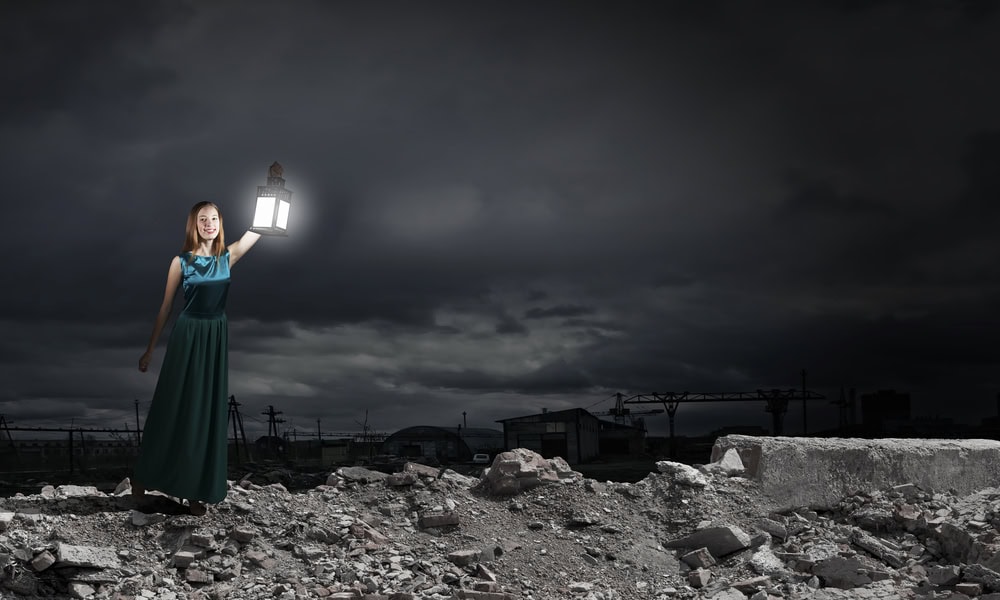 A strong, well-known brand can greatly improve your chances of getting your foot in the door as a salesperson. However, this is a luxury that smaller, newer startups rarely have.
I experienced this first hand in my career when I went from Yahoo! to Indeed… Yahoo! was a household name at the time. But Indeed was an unknown 'new kid on the block' with zero brand recognition (I was the first enterprise salesperson hired). 
To be successful, I had to take a completely different approach to the one I used at Yahoo! to get my foot in the door (and be invited in) with enterprise buyers.
So if that's what you're struggling with, I've written an article on the ATP Blog that teaches you the step by step approach I used to do so.
READ: How to succeed in enterprise sales when you lack brand recognition.
4. Mark Birch's Prospecting Manifesto
Mark Birch is definitely someone to follow if you want to learn Enterprise Sales.
And when it comes to prospecting, I've found very few articles that break down how to prospect in the enterprise market (and why it's different than SMB) as well as his Prospecting Manifesto on Alleywatch does.
This screenshot of the intro sums up why it's a must-read: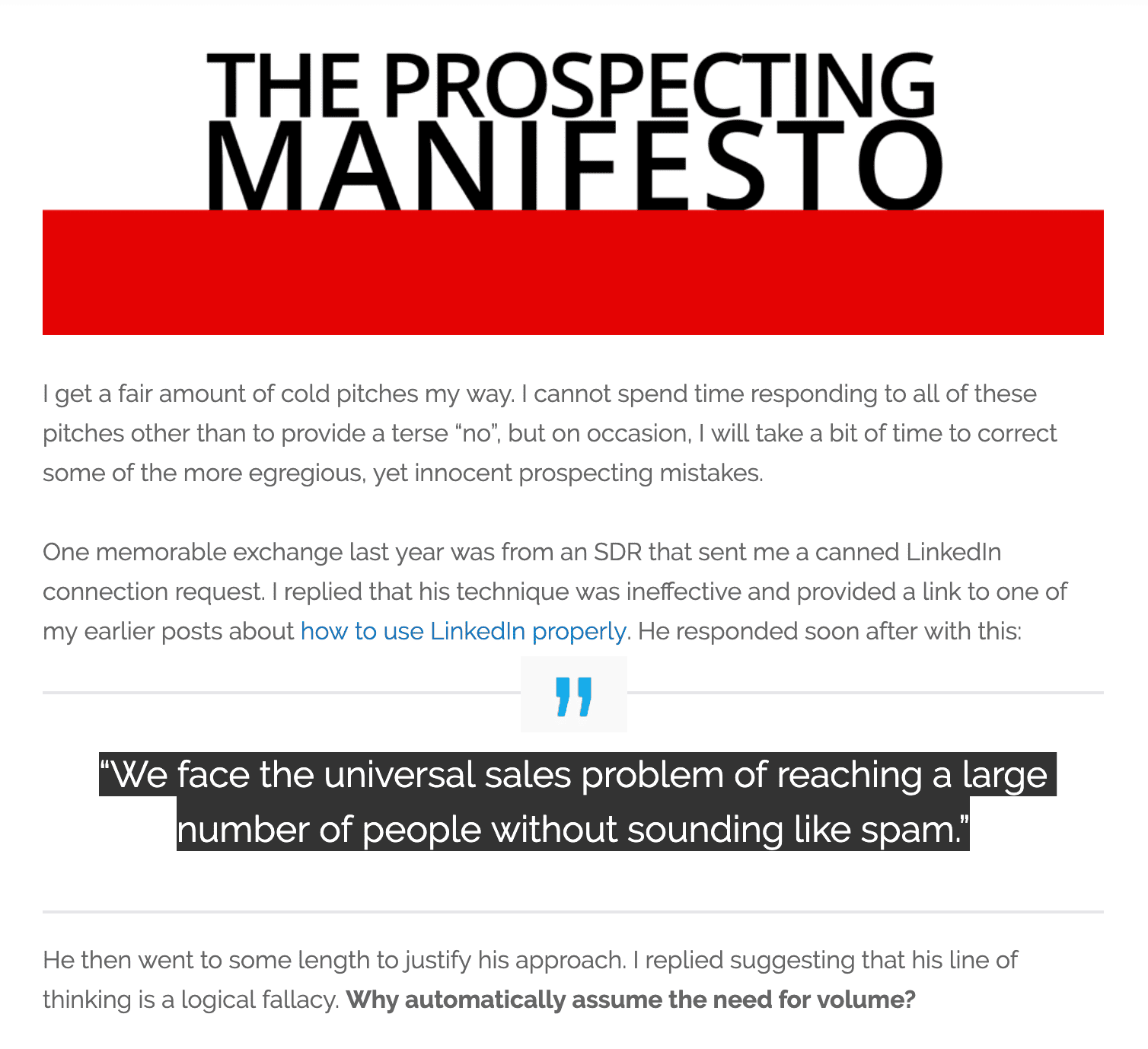 Prospecting in the Enterprise world is not about volume!
READ: The Prospecting Manifesto.
5. Five simple sales "hacks" that built a 9-figure sales career.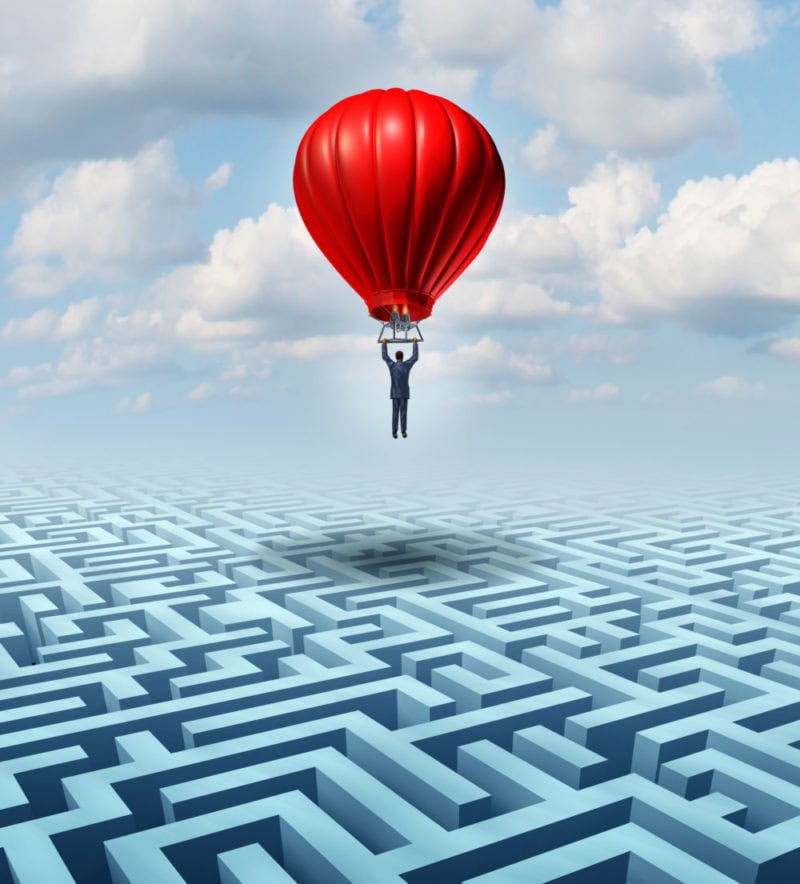 Continuing with the prospecting theme, I wrote my own article on the ATP Blog on my own prospecting approach that has served me well throughout my career.
It's very tactical. And in many ways, it's my own "prospecting manifesto."
These tactics won't triple your sales overnight. But they will help you get in the door with the big fish.
READ: 5 simple sales "hacks" that built a 9-figure sales career. 
6. Ready to hire an enterprise sales team? Read this first.
If you are ready to hire, there are a few things you need to consider before you do.
I've covered some of them in other articles above. But this one goes into more detail on the mindset side that will help you avoid costly mishires.
READ: Ready to hire an enterprise sales team? Read this first.
7. What problem is your customer really trying to solve?
Dave Brock's content is absolutely gold for the Enterprise Seller and I can't recommend what he writes enough.
However, his article on "What Problem Is Your Customer Really Trying To Solve?" highlights a key difference between the Enterprise Market and the SMB market that most miss:
We have to be more than order takers who are peddling our wares… we have to be solution consultants!
This article explains why.
READ: What problem is your customer really trying to solve?
Enterprise Sales Books – To Deepen Your Understanding.
These are the books I feel have had the biggest impact on my own sales skills or align best with my experience in the Enterprise Market. They are great for a Founder who wants more than a blog post can offer!
8. The Transparency Sale by Todd Caponi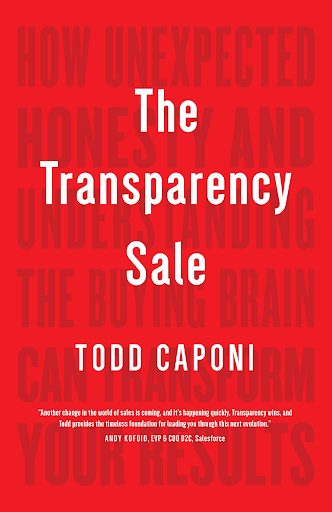 "What if the key to selling was to do exactly the opposite of what most sales courses tell you to do?"
That's the question Todd Caponi addresses in his book The Transparency Sale. As he writes in the book summary on Amazon:
"The larger the purchase, the greater the demand for transparency."
Well, enterprise deals are the largest deals. And in my experience, there's no room for anything less than 100% transparency for them!
The Transparency Sale reveals Todd's "hard-earned secrets for engaging potential buyers with unexpected honesty and understanding the buying brain to get the deal you want while delighting your customer with the experience."
It's a must-read for any enterprise seller.
BUY ON AMAZON | VISIT THE SITE
9. The Challenger Sale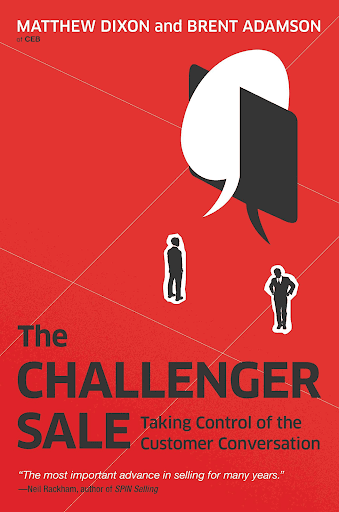 The internet has changed the way B2B businesses buy. And that's what The Challenger Sale addresses.
As Gartner puts it:
"Gartner research found that customers are more than halfway, 57%, through the purchase process before they have the first meaningful contact with a seller. Customers are coming into seller interactions with preconceived ideas about what products and features they want to buy and how much they're willing to pay. In this environment, sales reps must deliver a purchase experience that transcends product features and benefits to win sales and retain business, or risk becoming irrelevant."
In summary, The Challenger method is about challenging the status quo in a productive way to help a business.
It's not the be-all-end-all in my experience. But I think there are absolutely bits and pieces which are important to incorporate into your own enterprise sales process.
BUY ON AMAZON | VISIT THE SITE
10. Whale Hunting With Global Accounts.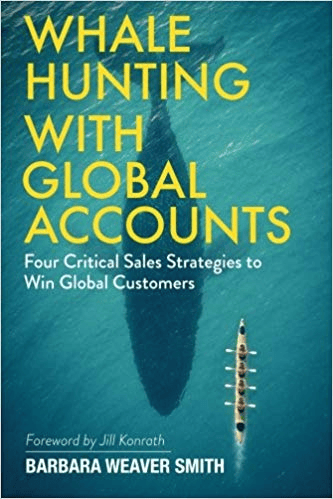 Mega accounts are in an entirely different league. And if you're trying to get a perspective on how to tackle/approach the blue-chip brands, this book should be required reading.
It embodies what it really takes to tackle the mega/global/biggest and best deals! 
The big takeaway for me was how your business transforms through these mega accounts. I found it particularly valuable because it used real-world examples to walk through what this road really looks like.
BUY ON AMAZON | VISIT THE SITE
Blogs and Newsletters Worth Subscribing To.
These are the blogs I feel consistently put out solid enterprise sales content that really helps. 
11. The Revcelerate Newsletter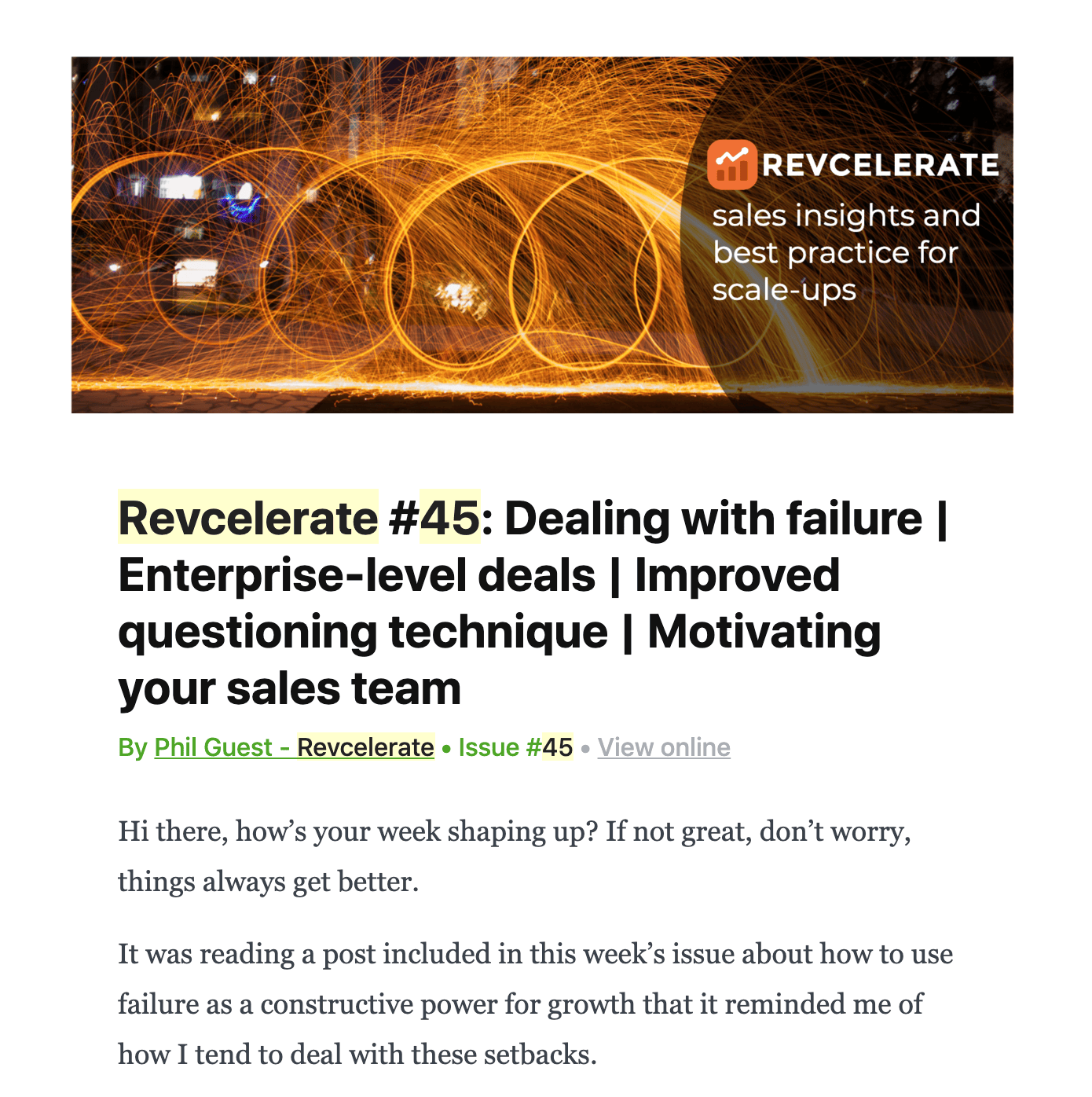 The Revcelerate Newsletter is a weekly curated collection of the best sales content on the web. It's not enterprise sales specific, but it does have strong enterprise leanings. 
It's put together by Phil Guest and delivered weekly via email. 
12. The Partners in EXCELLENCE Blog
As I mentioned above, David Brock's content is fantastic and 100% correlates to enterprise sales. Just about everything he writes, I love.
13. The ATP Blog
Our team has spent a collective 40+ years in the sales/enterprise sales world. We share that experience on our blog and on our email list!
If you'd like to stay up to date with our latest content (including insights I share via email and nowhere else), sign up below.
Sales advice that works, in your inbox.
No spam, no pitches. Just real insights like these that have helped us win at sales and recruiting over the last 20 years via email each week.
Enterprise Sales Organizations to Follow.
These two organizations are great sources of data and training for enterprise sellers and ones that I have personal experience with.
14. Miller–Heiman Group
I've been through Miller-Heiman's sales training 3 times and have never regretted it. In fact, I still use their worksheets to this day!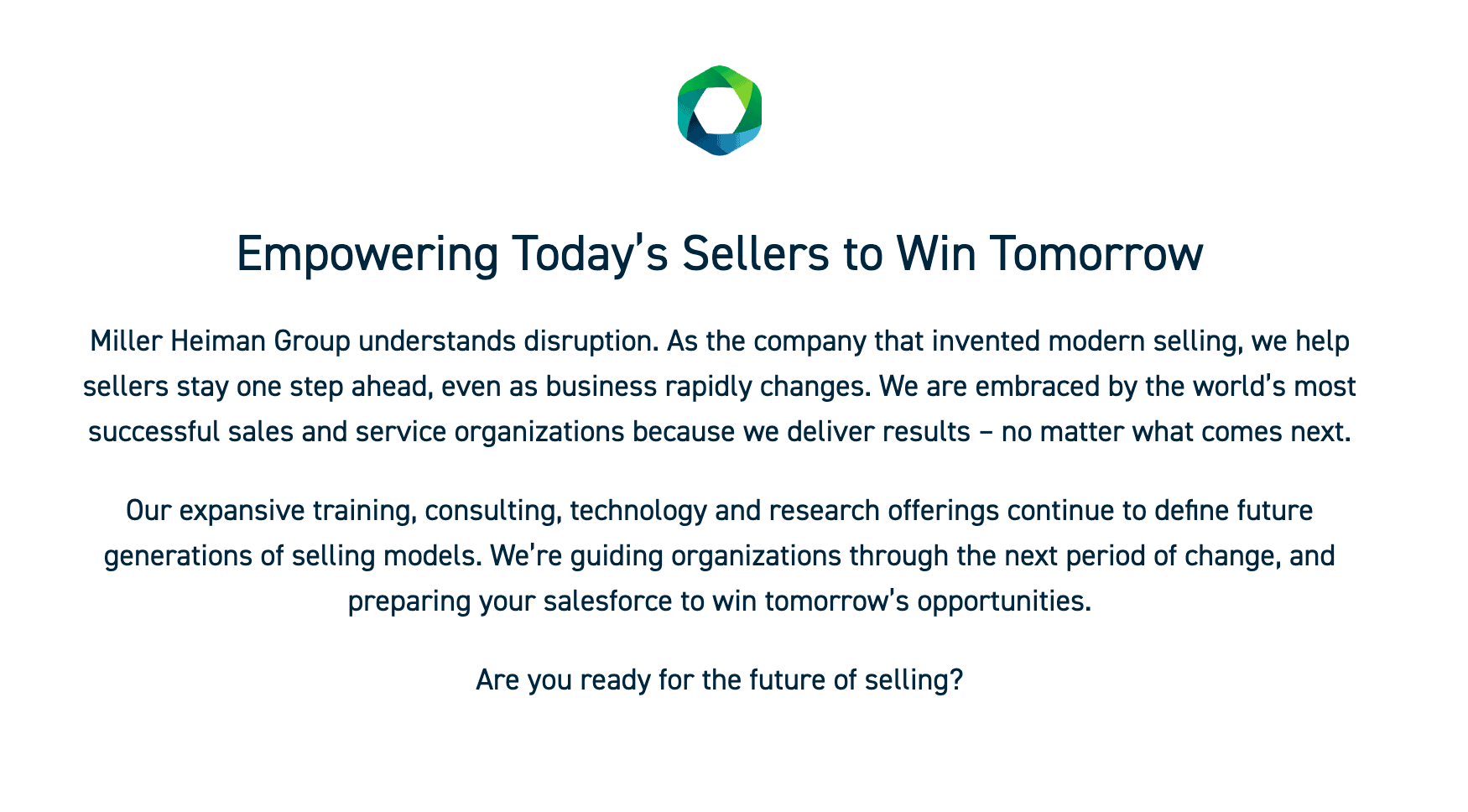 Their approach is a mindset exercise of mapping out an entire organization, finding your key decision-makers, and developing an action plan that makes sense.
It's exceptionally helpful for building a strategic approach with each Enterprise buyer!
The organization is a great one to follow in general. They put out great content on their blog and do some excellent research.
15. CSO Insights
CSO Insights is the research division of Miller Heiman and it speaks to the enterprise sales journey well with data-driven insight.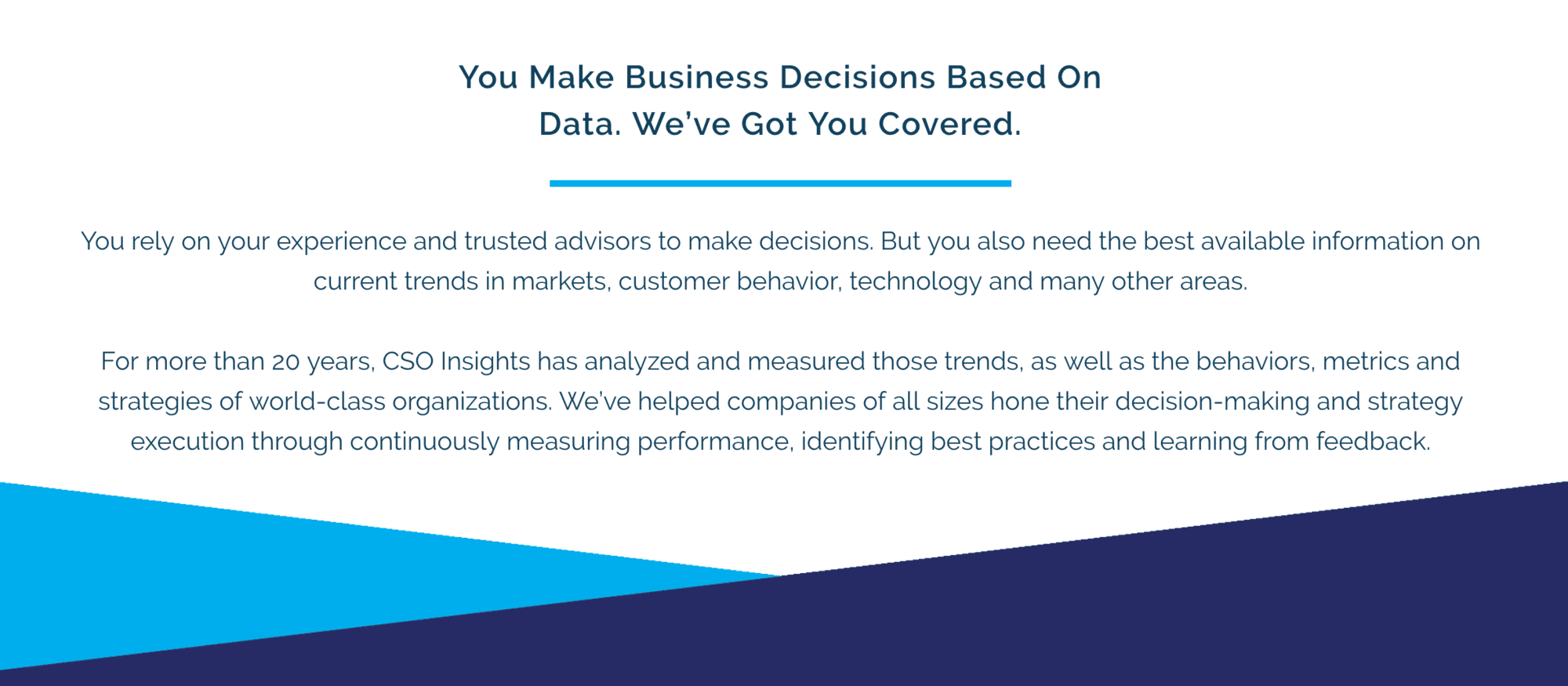 CSO Insight's Blog is particularly great. This article is an excellent example of what you can expect on their blog and how it can help you as an enterprise seller.
Enterprise Sales Forums/Groups To Join.
I'm personally involved with both of these forums and they are great places to learn and ask questions from experts in the enterprise world.
16. The Enterprise Sales Forum

The Enterprise Sales Forum is run by Mark Birch and is one of the best places to learn from real enterprise sales practitioners and leaders.
They also do local chapter events where speakers present on a variety of enterprise sales-related topics.
17. Modern Sales Pros
The MSP Group is a member's only Google Listserv that you have to apply to in order to join. 
It's a great place to ask questions and get help from some of the best sales leaders and executives in the industry.
And it's not just for Enterprise Sales either!
Stay tuned! More resources coming… 
I'm always on the lookout for great enterprise sales resources and add new ones here regularly. Check back for updates!