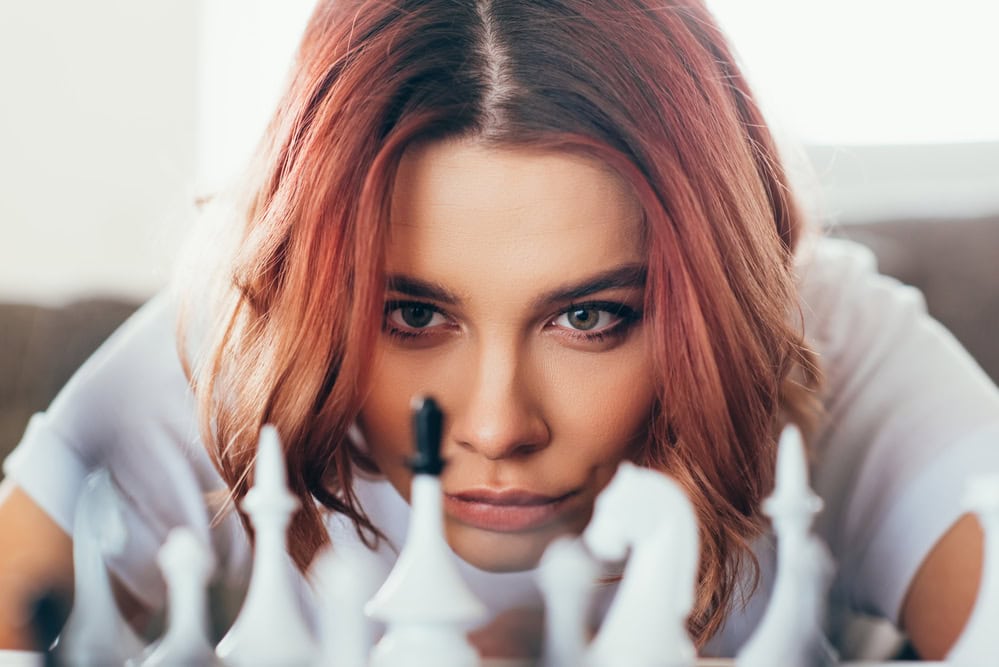 Intentionality Is A Sales Interviewing Superpower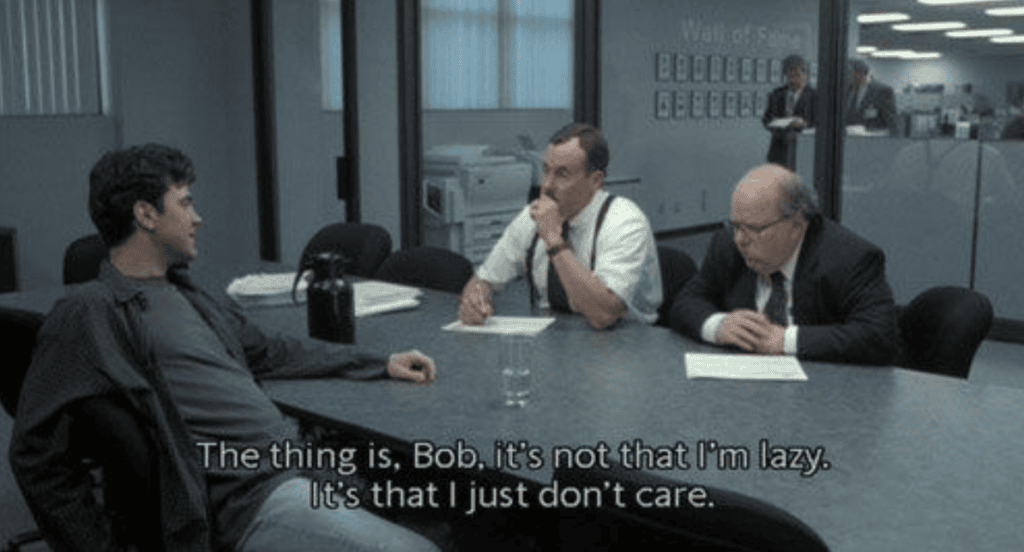 You can't teach people to care and if you don't, it ALWAYS comes through. Regardless of being a sales leader or sales rep, when you're interviewing and you're just "window shopping," it shows.
Newsflash: the window shopping mindset isn't a great look in practice and more often than not, doesn't result in an invitation for the next round.
Let me be clear, quantity is NOT above quality when it comes to making career moves.
There are big differences when it comes to making job moves versus career moves.
Alexine nails it from one of my recent LinkedIn posts:



I'm baffled by how many sales leaders and salespeople chuck curiosity to the side and treat the interview process as a basic numbers game. You don't increase your chances of getting hired by simply talking to anyone and everyone that you can… just like in scaling a startup.
Knowing what your superpower is and the kind of work you want to do and the startup you want to be a part of will serve everyone well throughout the process.
Contrary to the popular startup mindset, there are no shortcuts here. You can't just spam your way into a fulfilling, rewarding sales role at a remarkable startup.
The best things in life require effort and this is where intentionality directly correlates to success finding that "cherry-on-top role" where you can grow and thrive.
Doing your research to pinpoint the right sales roles for YOU with a tailored approach and interview preparation to boot, is the secret sauce to landing the role of your dreams.
A sales cycle done well and right looks very similar to an interview cycle.
As you map what success looks like, the traits of the top 1% in sales (startup or otherwise) are relevant to keep top of mind: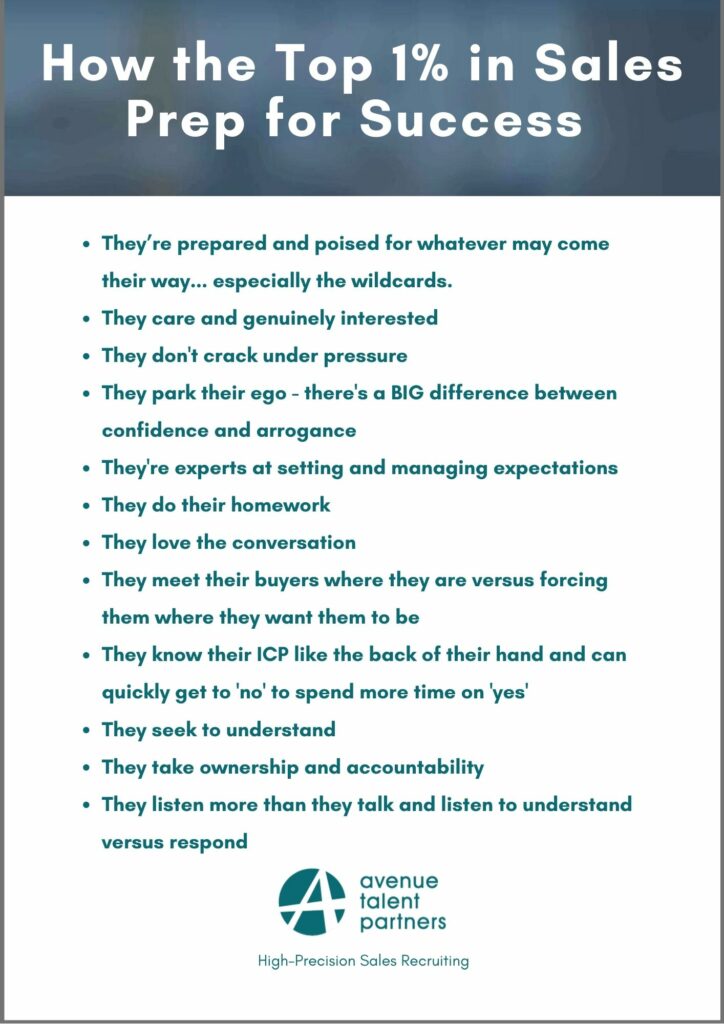 Every interview is a networking opportunity that goes beyond "I want a job."
We're talking about a long-term mindset versus short-term, what's in it for me mindset. Why? Well, you never know when your paths will cross again, and believe me, people will remember you for better or worse.
When you show up to an interview unprepared and unenthusiastic it comes through to leave a bad taste in everyone's mouth. Give it the TLC it deserves regardless of the outcome… your future startup, sales self will thank you for it and you'll be a heck of a lot better of a team member and leader for it.
We have a manifesto here at
ATP
:
If we care more about the success and growth for your sales career or startup than you do, there is a big problem.
It's important to take a step back, breathe, and evaluate the task at hand. Where are your actions taking your career?
If you've fallen into the window-shopping approach, it's a great opportunity to get back on track.
So, what does it mean to be intentional?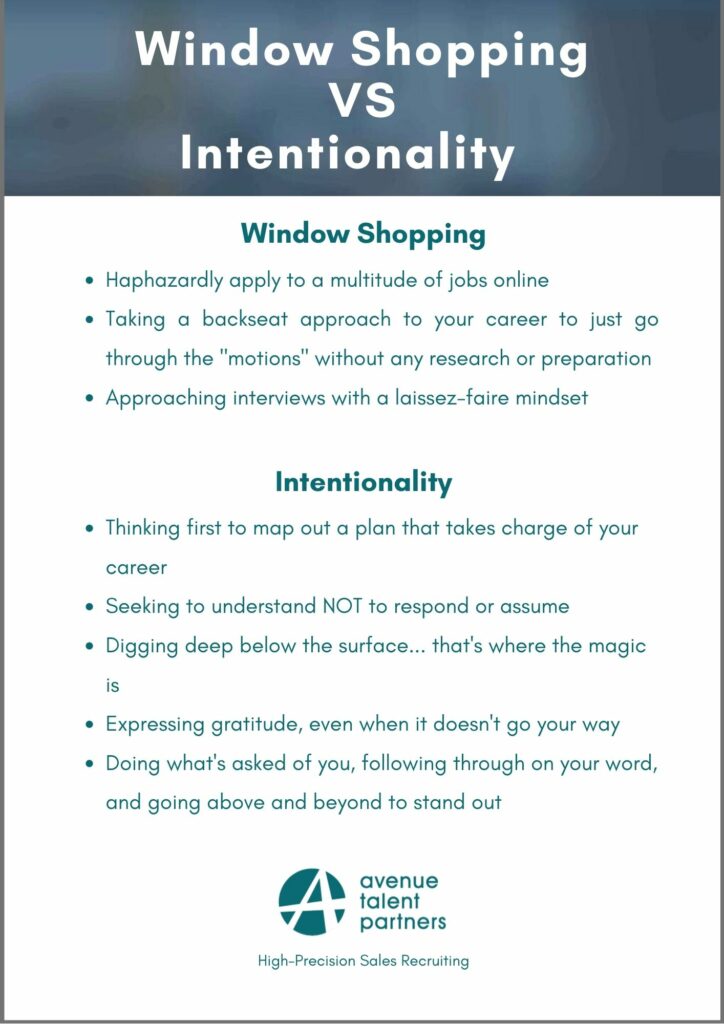 For starters, it's time to hop into the front seat and take the reins of your career. Interviews aren't just about landing the job – this is your life we're talking about!
When you take a backseat approach to interviewing at a startup to just "see what happens", you're holding yourself back from growing, learning, and truly thriving to achieve your greatest success.
Shift your mindset to understand your own superpower as a sales rep or leader and align yourself with the right startup. That's how you ensure that every interview counts, even if it doesn't work out. The earlier you adopt this way of thinking, the better. Just like you'd do within your buyer journey AKA sales cycle.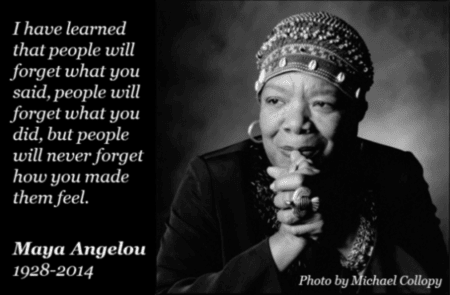 How to Be Intentional in Your Next Interview

The name of the game here is putting effort and care into everything you do before, during, and after the interview process. Thoughtfully prepare to showcase your value, evaluate each opportunity with a critical eye, and go in looking to create a win-win for both sides. These are some of my very best tips to be intentional:
Get clear and right with yourself
It's a two-way street, interviews aren't just about the company – they're for you too! It's critical that both parties come together to have real conversation to confirm or deny if it makes sense. As a result, it's key to head into your interviews with a clear picture of your why, goals, what's, where's, lessons learned, your superpower (and where you've struggled), and why it matters to the startup you're speaking to… AKA "so what?"
A good first step is to revisit your past experience with a fine-toothed comb to create a "clear picture" that connects your dots and theirs. This sets the stage for what happens next and if you'll be invited back.
One of the best ways to get in touch with yourself is to start a journaling habit. Personally, leaning into the power of a regular journaling routine has been a game-changer for me as a sales rep, sales leader, and entrepreneur.
The power of getting it down on paper is fierce and helps to collect all of your thoughts, stay on track, and be honest with yourself and any potential team member you're interviewing with. Talk about a win/win situation.
But wait… there's more!
Another must have is using a scorecard. If you want to land your dream job, you need to be consciously evaluating every opportunity against your own needs, wants, and desires. The scorecard eliminates guesswork and emotion from the equation to keep you focused on the things that matter most. While the scorecard is for you, it's a great resource to turn to while interviewing as well. Don't be afraid to have it handy during interviews so you can reference it to make sure you're digging into the important bits and pieces that'll help you make a well-informed decision.
Whenever I see someone come to an interview with pen and paper in hand and a well-prepared list of action items and questions, it sparks serious joy and is a clear indicator that a productive conversation is about to happen, regardless of outcome.
I've written extensively on using a scorecard in the past and created a template you can use too.


**Be sure to actually read the article, because there's a ton of context for how to use the scorecard effectively.
In-Depth Research
The only way to walk into an interview ready to truly articulate why you, you MUST do your homework beforehand.
Stop, breathe, and put yourself in the interviewer's shoes (just like you would in sales). They'd love for someone to come in, show a complete understanding of the role, and clearly communicate the value they can bring to the company. They're thinking a few things:
How will you be on the team?

How will you be as a sales leader?

How will you be with our buyers?

How can you really help us grow?

How do we know you're not full of hot air?
Ultimately, people want to be seen, heard, and understood. Interviewing is no different. Buyers and Hiring Managers move forward when you can help them:
Solve problems

Reach goals

Get better
To do this well, your research begins with assessing the role itself. It pains me to even mention this, but please read the job description (you'd be amazed by how many people don't do this). The job description spells out exactly what the company is looking for in a candidate – i.e. the day-to-day job requirements, must-have skills, and the type of person who'd thrive in the role. Highlight their must-haves and map back to how you can help, what you've done specifically for those key asks, and why it matters.
From there, leverage LinkedIn to pinpoint people who are currently in the role or have moved on to gain valuable insights into their experiences. Remember… there are 3 sides to every story, so consider this intel objectively. This is a great way to gain a deeper understanding of the role and connect it to your past experience.
Bottom line, effective research gives you the information you need to be well-equipped to have a meaningful conversation.
Show & Practice Gratitude
Regardless of how the interview goes, you're always in control of how you conduct yourself and respond. Think about the bigger picture and understand that we're living in a very big, small world. Gratitude, helpfulness, and follow-through go a long way. The power of a thank you email and handwritten card are incredible opportunities to reinforce your interest, how you can help, and at the very least thank them for the time spent together.
Pro tip: send the emailed thank you within 24 hours to every person you spent time with (their emails should be in the invitation) followed by a handwritten card dropped in the mail.
True story…
We were approaching the end of the interview road with two stellar VP of Sales candidates with one of our startup clients. Just like the Bachelor, there's only one rose to give when all is said and done.
After delivering the tough news to our runner-up who was drooling over the role (not our favorite thing to do at ATP), we were blown away by how she received the decision. She handled it with such grace, gratitude, and used it as an opportunity to learn. Her response resulted in the leadership team quickly coming back with a newly created, better role for her.
Moral of the story? Even if the answer is 'no', don't completely write it off as a loss! You never know when that gratitude will come back to reward you in the future.
Wrapping Up
Good begets good, always.
High-quality candidates have high-quality interviews, which lead to high-quality roles.
What you do before, during, and after every interview informs how your value is perceived by a company.
Take each interview seriously and ditch the shortcuts. At the end of the day, this is your life and only you have the power to define what it looks like. Know yourself and your superpower, show up for yourself and for them, be intentional, put the time in, practice the Golden Rule and use that scorecard!
With that as your foundation, you'll be signing that golden job offer before you know it!