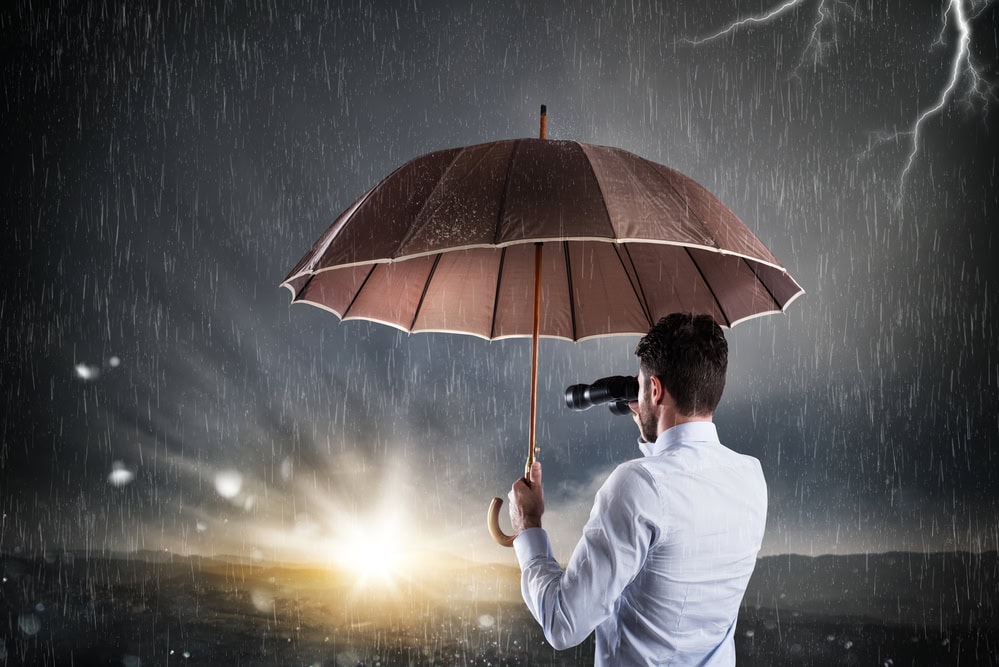 How to Recession-Proof Yourself (and Your Career in Sales): 4 Steps to Take Now
One thing is certain, recessions will come, and that creates a lot of uncertainty for those of us who love the startup life, where job security is already in question!
Throughout my career, I've learned to recession-proof myself, and because of that, I've survived several recessions and downturns.  The most important thing I learned is that now is the time, while the economy is strong, to start preparing.  I'm going to explain what employment security is, and how you can develop it to recession-proof your career in sales.
Employment Security vs Job Security
Though many pundits make it seem like they can predict when the next recession will hit, the truth is, not even economists can: 
"Historically, the best that forecasters have been able to do consistently is to recognize that we're in a recession once we're in one," said Tara Sinclair, an economist at George Washington University.  "The dream of an early warning system is still a dream that we're working on."
Since they're almost impossible to predict, you need to start preparing now.  If those of us in startups want to be covered when a recession hits, we should be focused on employment security.
And no, it's not the same thing as job security. Scott Leese broke it down well:
"Job security is confidence in your company, your role, and your standing in it that gives you peace of mind that you will be able to remain exactly where you are, indefinitely.  That's not as attractive to a lot of us growth addicts.
Employment security is confidence in yourself, your reputation, and your network that no matter what happens at your current job, you'll easily find a new one of equal or greater value, no matter where you go."
There are four steps to achieving employment security.
Over-deliver at your current role

Build a personal brand

Build a network

Take on new challenges
Let's get into them.
The 4 Steps to Employment Security
#1: Over-deliver in your current role
Your quota, your achievements, and the skills that produce them are the foundation of what makes you desirable as a salesperson.  The deeper and more impressive your track record of success, the greater your chances of being hired again if you suddenly lose your job and find yourself unemployed.
This is the single most important part of creating employment security.  Without your skills and achievements, little of what follows will matter. 
Creating results and building your skills should be your number one priority in your current role.
Don't worry if you're not there yet, though.  This isn't about going 0-60mph overnight, this is about getting a freight train to start rolling.  It's slow to start, but once it's moving the weight and momentum will make it nearly impossible to stop. 
Focus on the fundamentals now, while the market is good, and you'll have more momentum when the market turns.
Here are several resources that will help you rack up wins and build your skillset:
What if my current role prevents me from success?
There are companies out there where it is very difficult to succeed in sales.
I've worked for a few of them.
But I'm going to challenge you on this… far too many salespeople are quick to write off a company and move on.  This happens a lot when the job market is good and it's easy to find a new role in a flash. 
Here's the thing, job-hopping can hurt your career even if the market is strong. 
On the other hand, I've seen salespeople who have managed to create amazing results in tough situations, and because of that, they went on to have the pick of any opportunity they want. 
So, while I'm not saying you should stick out a dead end, I am saying that you shouldn't walk away until you've given 120% to make it work.
#2: Build your brand 
With so much rhetoric about "personal brand," it's important to remember Doug Landis' wise words:
"You don't claim your brand. Your brand claims you."
And he's right.  This is reinforced by the work you do, how you show up in front of and behind the scenes, your willingness to help, the outcomes of your work, consistency and so much more.
Strong companies (the kind you really want to work for), want to hire people who are immersed in their industry and making an impact on their buyers.
Companies want salespeople and sales leaders who can be trusted advisors and consultants to their buyers and their team members, not just order takers or paper pushers. 
Companies also care immensely about having a real culture fit with you — does your brand align with theirs?
It's simple: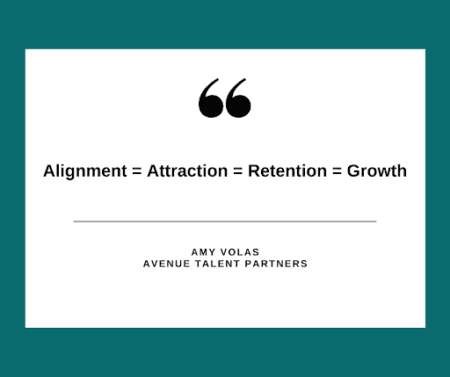 So, if you've developed standout results that make you highly desirable to have on a sales team, the next step is packaging that into a compelling personal brand.
Your personal brand is made up of a lot of things — your values, the verticals you like working in, your expertise, your approach, your process, your point of view, your voice, and more.
And while it's important to have crisp sound bites that speak to these qualities for interviews, if you want to create real employment security, you should also have a proven track record of demonstrating your brand as a thought leader within your marketplace. 
Meaningful engagement is one of the best ways to develop your brand and set yourself up as a person that has something of substance to share.  Here are a few resources that will help:
#3: Build the Sum of Your Parts AKA Network
The sum of our parts mindset is not lost on me.  And a successful sales career is not a solo endeavor.  I would never have achieved the things I have in my own career without mentors, leaders, and peers to support me along the way.
When things got tough, I was so thankful I had people in my life to lean on.
For example, I left the traditional workforce to start a company with an old boss/friend/mentor right before the economy took a turn.  The recession hit and things fell apart.  I had to suck up my pride and go back to my old job at Yahoo!.
Thankfully I still had a door open there!
Your network is powerful.  Build and maintain those relationships! Never burn a bridge.  It's a big, small world and you don't know when you'll need to cross it again.
Here are some resources that will help you build your personal network:
#4: Take on a new and challenging project
Everything above I would consider fundamental.  They are the foundation of solid employment security.  So if those aren't rock solid, hold off on this last point until you have mastered them.
When you've nailed down all of the above and are looking to develop further, taking on something new that will help you grow is what I'd recommend.
While success is important, learning is even more so (regardless of what stage of your career you're in).  
Challenging yourself will grow your marketable skills over time and make you more than just employable, it will help you stand out while making you promotable. 
Think about it… When an executive team is evaluating performance, promotions, and who to potentially cut, it's rare for the person consistently asking questions to learn more, doing an excellent job in their position, taking on a new challenge, and seeking to grow to be on the chopping block.
Final Thoughts
The absolute best time to build employment security is before you need it.  And it's never too late to start.
So wherever you are right now, dig in, create results, build your brand, build your network, and look for opportunities to grow.
It's much easier to prepare when the market is working in your favor rather than against you.  Don't wait for another great recession, start recession-proofing your career now!