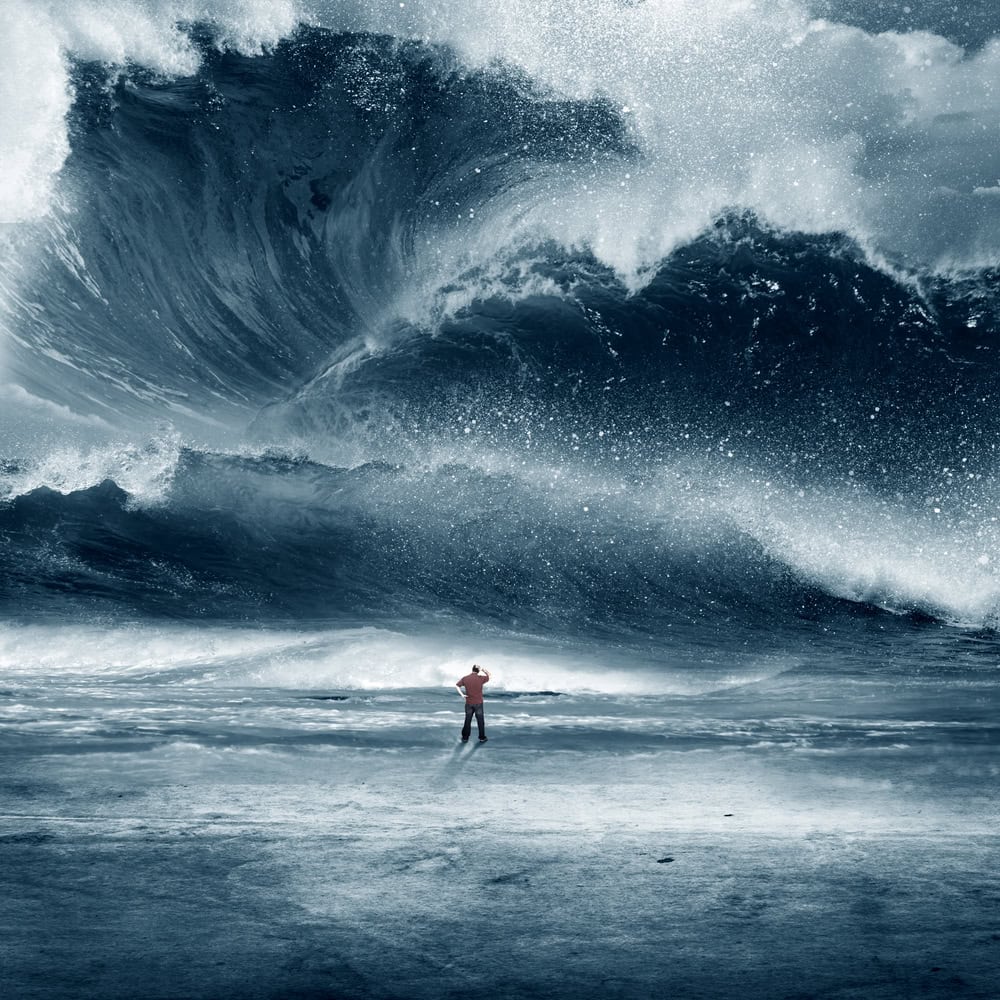 The Startup Founder's Guide to Powering Through Tough Times
Here we are, in the middle of another big shift in the market.
Just a few years ago, we were deep in the swing of a bull market, and a global pandemic struck to rock our worlds… followed by a spike in the market, inflation, war in Ukraine, low unemployment rates, employee wages continuing to rise, economic uncertainty amongst many tech layoffs, and a lot of chatter about a looming recession.  Talk about a rollercoaster ride!
This is the fourth time my career has experienced a "down" time, and I've noticed some common themes. 
Life as a Founder is hard.  Having to make decisions, not having all of the answers, and feeling fear are all constant companions.  
Advice (solicited and unsolicited) is everywhere… from your board, advisors, investors, social media, articles, communities, and books… much of it is about cutting back, "efficient growth," doing more with less, and downsizing.  
Before you jump on any bandwagon, let alone the downsizing one, please STOP and think about your business, team, metrics, customers, and marketplace first.  
Not all cuts are good, especially deep go-to-market (GTM) cuts.  According to Harvard Business Review, those that downsize are twice as likely to declare bankruptcy than those that did not.  
Why? Because they had a short-term mindset.
It's easy to get paralyzed by fear and miss the big picture when times get tough.  
Instead, focus on what you CAN control… your team, customers, and building sustainable pipelines.  
How? 
Focus on how you can help your customer:
Get better

Solve problems

Reach their goals

Pinpoint blindspots they weren't aware of

Be the hero of their story, not yours
When this is your primary focus, you show up to:
Listen to understand, NOT respond

Have a real business conversation 

Confirm/deny alignment… together

Lose sight of your competition and the need to sell to focus on what matters the most… your customer and their world
When this happens, you're able to:
Build robust pipelines full of short and long-term opportunities

Stand out from the rest

Learn what's important to your customers, not assume

Focus on creating sustainable success… even in a hard market
Fear is a great equalizer where it can paralyze you or propel you forward.  In down markets, breathe, and think about the long view.  
This is the most powerful framework you can follow: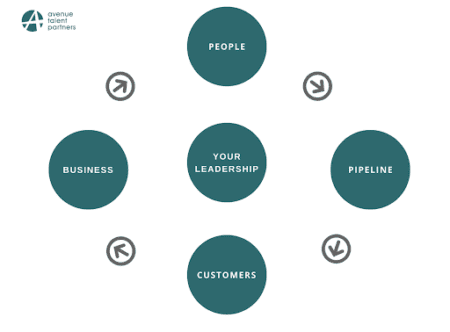 Without the right people in the right jobs, and doing the right work, you will not have a strong pipeline, which means no customers, resulting in no business.
This is why it gives me great pause for concern seeing so many deep layoffs in the GTM functions.  If/when you find yourself thinking about laying your team off to weather the storm, please think long and hard about how you'll sustain this flywheel for success.  
TL;DR founders, don't get caught up in the wrong hype; it's critical to measure what matters for your startup.
There's a goldmine in the graveyard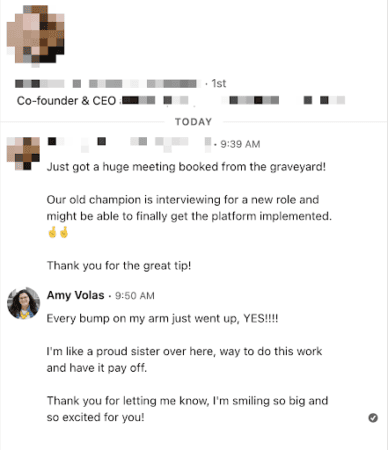 Source:  One of the founders I advise
You've invested a lot of money, time, and resources at the top of the funnel.  
Why let all of that work go to waste?
Just because a conversation went dark, the answer was "no thank you," or an opportunity is stuck doesn't mean you should give up.  
Doing so leaves so much opportunity behind if you're not nurturing your "closed lost" or "win back" opportunities.  
Simply put, the graveyard is a goldmine.
If your pipeline is drying up, look in the rearview mirror and get to work.
Now is the time to hire

If you don't have the right people in place, strong leadership, or running too lean, it will be difficult to power through a tough market.
If you've got money in the bank and struggling to execute, this is absolutely the time to hire.   
How can you realize your goals, gain traction, adapt, create and deliver a winning strategy while growing and retaining your customers without hiring the right people?

Contrary to popular belief, hiring remarkable people in this market IS hard and very competitive. 
Just because you can talk to many people doesn't mean they're the right fit for you, and we all know how cumbersome that sifting process can be. If you struggled to hire well when the market was strong, it will only become more difficult now.
Some food for thought:
Tech companies added 25,500 workers in September in one of the strongest hiring months this year (US Bureau of Labor Statistics (BLS) and industry analysts).

100,000+ jobs in "SaaS" and 1.1M in "Sales" on LinkedIn as I write this.

Unemployment is still low (less than 4% as of November 2022), despite all the layoffs we've been hearing about.

Money still has to be deployed,

is being deployed, and will be deployed

.

While now may not be the time to exit, it certainly is

an incredible time to build

.
So, what does this all mean?
Carpe Diem!
This is the time to set up your "dream team," train them, give them the resources they need to succeed, and take the 2023 "bull" by the horns.
Remember that the hard thing about hard things is that treading water is not an option. It's time to take action. All you need to know is what to do.
Most of all, not making or delaying a decision is a decision! 
If you're sitting on the sidelines waiting for a talented gem on the cheap, waiting for that perfect person, or are afraid to make the wrong decision, it will hold your business back when it's time to catapult forward the most.
After all, your competitors are using this time to set themselves up for the future. Will you be able to keep up?
Pro tip:  Use a hiring scorecard to define what good looks like for your business before you start the hiring process.  So that when you see exceptional talent that fits your needs, you can take confident action and hire them quickly. 
Reality versus perception

It's critical to understand what to expect as you go to market.  The marketplace speaks the loudest, and the reality of it is oftentimes different than your perception.  This is especially true for going to market and building a team.  
One of the biggest pitfalls founders make is the time it takes to ramp up a new sales hire to build a repeatable, scalable pipeline.  
SMB will not be the same as enterprise, each segment is nuanced, and there is no one-size-fits-all approach. 
Enterprise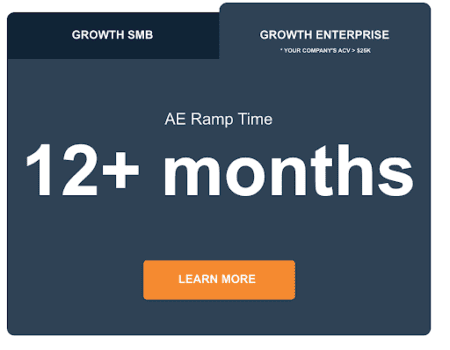 Doing small deals with big brands is NOT enterprise sales.
It's not a linear process!  The number of buyers in the journey (according to Challenger, it's over 11 people now), the time it takes to complete a deal, procurement, security reviews, RFP's, customizations, integrations, compliance, and the complexity of a deal given the number of departments with competing priorities are all very different. 
It takes at least a year to build a solid enterprise sales engine.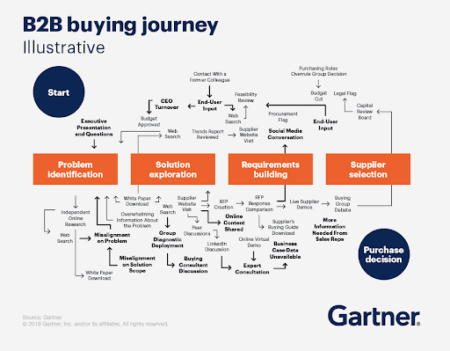 SMB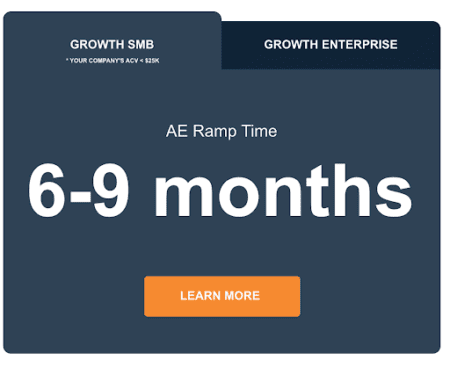 With a shorter, less complex buying cycle, SMB sales are an entirely different beast. The sales process for SMBs is typically focused on volume and optimization.
The buying committee doesn't include as many people, the risk isn't as significant, and deals are transactional with short sales cycles.
If you're planning to ramp up a new market segment with a sales function to support it, it's important to set realistic expectations. 
Measure what matters


When I think about what's happening in this market, measuring what matters and doing the right things for your startup are key – especially regarding sales.
These are a few key metrics to keep your focus on:
The number of confirmed next-step meetings on the calendar

The number of first conversations who remain engaged

Number of opportunities created from the graveyard 

Opportunities created from outbound versus inbound (there should be a healthy balance from both)

The number of mutual action plans in place.  A mutual action plan isn't mutual if the customer doesn't do anything or agree to it.  If the customer isn't bought in, it's merely a checklist… you have to earn the mutual part. 
These are a bit off the beaten path from what you normally read about, but they're incredibly important to keep the momentum going during a down market. 
For salespeople, here are five activities to stop wasting your time on to save hours of time every week:
Sending empty follow-up emails

Focusing on your personal brand only

Trying to find the perfect cold-calling time

Relying on one method to prospect

Focusing on personalization versus relevance

Focus on the tasks and metrics that are making a difference.  
Leverage tools to keep things streamlined and organized. 
Tools are meant to help us, not replace us.
Companies that realize this to do the work without getting caught up in the shiny objects are the ones that are recession-proof. 

For example, using Lavender for emails is NOT a replacement for using your brain to write something of substance.  
Lavender helps to put your best foot forward to create a meaningful conversation.  Yet it won't be the thing that creates the email or has the conversation. That's what a great team is for.  
So make sure your team knows how to have those business conversations, then use tools to create them.
Pro tip:  If your team is struggling to have a powerful conversation.  George Stephanopolous' Masterclass on purposeful communication is excellent.  
Wrapping Up
Despite what you see in the headlines, everything isn't doom and gloom. In fact, this is an opportunity to address the cracks in your foundation as a startup or build a remarkable one.  
Although times can be tough right now, you can navigate your startup through this.  Through dark, there is always light even when it's hard.  
Keep the long-game top of mind, mute the noise, and stay focused on what you can control to come out stronger on the other side.  
You've got this!