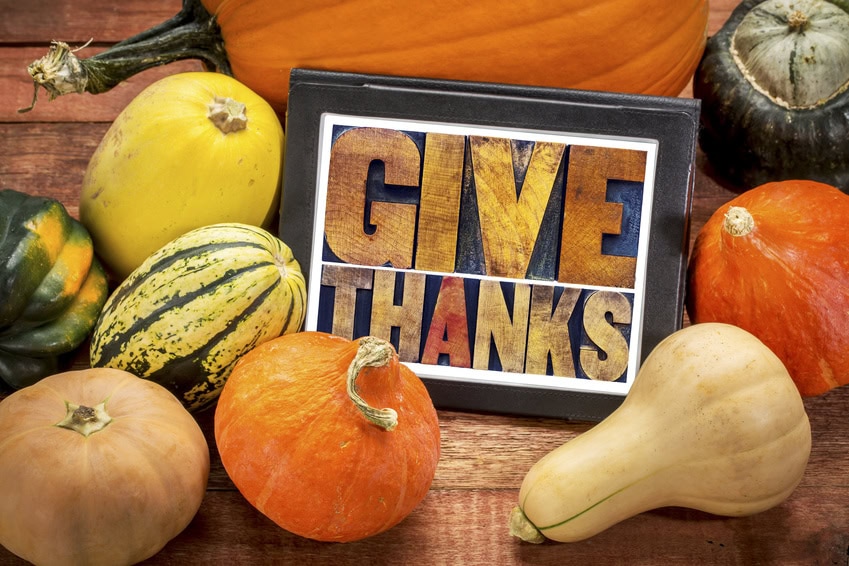 The 5 Things I'm MOST Grateful for as an Entrepreneur
Thanksgiving is one of my favorite holidays.
Sure, great food, family/friends and the Macy's Thanksgiving Day Parade are awesome, but even better, the special day gives me an opportunity to think about what I'm really thankful for in life.
I know, I know—if I'd listened more to my mother while growing up, I'd make a point of doing this sort of thing year-round. But, hey—can't fault a girl for trying, right?
Anyway, the purpose of today's post isn't to drone endlessly on about the kinds of things families talk about over the Thanksgiving dinner table.
Don't get me wrong—I don't take these kinds of conversations for granted, but for the sake of your sanity and entertainment, I've got more industry-specific stuff to talk about…
As such, below, you'll find a list of the five things I'm most grateful for as an entrepreneur—step away from the turkey for a minute, and check 'em out:
1) I'm Thankful for Debbie Showalter.
Let me ask you a question—what would Batman be without Robin?
I sure as heck don't know, but I'm guessing both Batman and his precious bat mobile wouldn't care to find out. Truth be told, I feel the exact same way (without the signature wheels) about Debbie Showalter.
She's my partner in crime at Avenue Talent Partners, recruiting top-notch sales talent better than anybody I know. Without her, I'd be completely lost.
With her, however? Forgive the cliché, but the sky really is the limit.
2) I'm Thankful for Industry-Leading Sales People.
Avenue Talent Partners is only as good as the sales talent it works with.
Fortunately, the salespeople with whom Debbie and I have worked closely are some of the most gifted I've ever seen. Knowing that they've trusted me and my team to help them better their sales careers is something for which I'll forever be grateful.
I know this will sound corny, but when I have a bad day, I think of how much their sales success means to me, and I manage to push through.  I'm honored and grateful to be a part of such pivotal moments in their careers—thank you for trusting us!
3) I'm Thankful for Remarkable, Inspiring Clients.
I'm humbled and so very grateful to be the trusted "go to" for some of the most dynamic, compelling, innovative startups in the marketplace.  It is a true pleasure to work my tail feather off on your behalf to evangelize your inspiring stories to attract, court and hire impressive sales talent.
Yes, we live in a very digital day and age, but Debbie and I have always make a point of building authentic relationships with the businesses who turn to us for help.
The result? Once the right hire has been made, the friendship continues.
I learn from you every day and am a lucky lucky lady to be engaged with such smart, lovely and talented people. I have the best clients on earth—end of discussion.
4) I'm Thankful for the Chance to Learn from the Best.
As shocking as this might come across to some of you, I don't actually know everything about entrepreneurship, recruiting or even sales—crazy stuff, right?
Sarcasm aside, though I might not know everything, I've managed to surround myself with a tight-knit network of gifted professionals (and resources).
What I lack, they're more than willing to patiently teach me.
I greatly appreciate each and every one of them more than this sentence will every convey.
5) I'm Thankful for the Kind of Support That's Grown Avenue-TP.
When speaking of Avenue Talent Partners, I usually limit the cast to Debbie and me.
The truth of the matter, though? Behind the scenes are a number of hardworking, dedicated mavens who work long hours to make my business all that it can be.
Because of them, in little over a year, I've built a business, launched a website and helped a number of companies improve the state of their respective sales teams.
I wish I could take all the credit, but as Aristotle would say, Avenue Talent Partners is truly "the sum of its parts".
Conclusion
Christmas and New Year's Day are typically the biggest of fan-favorite holidays, but make sure to give Thanksgiving the time and attention it deserves, too.
In fact, what better time to celebrate the holiday than right here, right now?
In the comments section below, make it happen. As a fellow professional, tell me what you're thankful for—and don't be afraid to drop a few names, either.
Until next time, have a very Happy Thanksgiving!