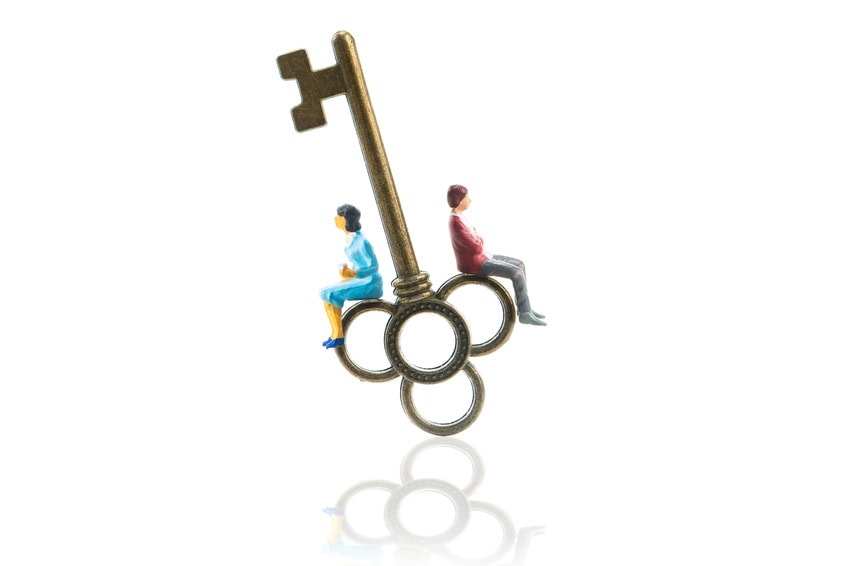 Admirers and Employers: Dating Lessons That Apply to Your Next Hire
There are a few things I know to be true, and one of them is that dating and recruiting have some remarkable similarities that I tend to reference regularly.
When I started dating Chris, my now-husband, I knew he was the right one from the very beginning. Fortunately, the feeling was mutual—after three weeks of dating, we got engaged. Nine wonderful months later, we sealed the deal on a beach in Kauai. No, we're not insane…
We've been married for 12 terrific years, and during that time, the following lessons about love have absolutely resonated: it does not look the same for everyone, you shouldn't settle, and you should always put your best foot forward.
Now, you might be thinking, "What does any of this have to do with sales recruiting?" Well, below, you'll see exactly how these 3 takeaways apply directly to recruiting:
One Size Does Not Fit All
There's no denying that an engagement after three weeks of dating sounds crazy to some. In fact—depending on the situation—I might even deem it crazy.  And trust me, many people thought we were certifiable.
When it came to Chris and me, though, I wasn't worried one bit, and here's why: we had both dated other people, been in serious relationships in the past, and each of us ultimately knew what we wanted out of life and meaningful relationships.
If this were the recruiting world, we were both experienced recruiters with a keen understanding of what we needed and why that had interviewed a lot of individuals, and when we found the right high-potential employee, we extended an offer quickly. And, sure, maybe a little bit of it was fate.
So, do I recruit for a role the exact same way I approached my own dating life? Of course, the answer is no. When it comes to recruiting for sales performers, people often surprise you—even if they might not seem to have the ideal body of work.
Here's an example: last year, we were recruiting for a high-profile sales role that required specific qualities. We uncovered several that had the prerequisite qualities, and four out of five of them happened to be from the same industry.
On paper, these candidates "sang" as they had worked in the industry before with specific knowledge that'd directly translate to the role. However, we spent a lot of time peeling back the layers and ending up placing a star outside of the industry to take the role as they had a different viewpoint, killer body of work, and a fresh perspective to offer.
When all was said and done, all parties were more than pleased with the end result and that person is a top performer. While this person didn't have the exact "resume" they had been looking for, they ended up being the perfect one for the job as the "raw ingredients" lined up and then some.
Don't Settle
Thanks to Chris and the last 12 years, I don't have a timely personal anecdote to share here. So, I'll just jump right into things.
All too often, people stay in bad situations (personally and professionally), sticking their heads in the sand and hoping things will turn around. You can see this in relationships, and you can certainly see it in the dynamic world of recruiting. After all, it's hard to leave someone you've invested your time into, even when things start heading south.
In both cases, the outcome will likely be the same—the courtship will inevitably come to an end. So, why do we drag them out? Simply put: settling can be hard to recognize.
Several months ago, we had the absolute pleasure of working with a man named Brad McRae. At first, Brad didn't need our services—he wasn't in the market for a new job. After a few conversations, though, we talked about what Brad what was important to him and what he really wanted in a company and why.
Together, we helped him define his ideal match—ultimately enabling him to realize that he was settling in his current role. From there, the rest is history. We placed Brad at a company that aligned with his exact needs and desires, and he's been flourishing ever since. #proudATPmoment
Bring Your A-Game
Today, it's not uncommon for people to excuse a bad relationship with the following saying: "It's not like I'm going to marry them, anyway." Although this makes sense on the surface, when you really think about it, it's kind of a silly thing to say—isn't it?
If you're an all-star basketball player that misses a shot in practice, you wouldn't shirk it off by saying, "I won't shoot like that in the finals, anyway." If you did, people would laugh at you—and rightfully so.
In life, whether it's on the court or on the sales floor, we play like we practice, so why aren't we taking everything a bit more seriously? Of course, we won't make every shot we take, but that doesn't mean we shouldn't always try.
Whether you're looking for a new role or hiring for one, every moment counts. Throughout the process, you have to discern when it's appropriate to share, and when you should keep things to yourself. Similarly, you can't simply go through the motions and not pay attention to the fine print if you want to end up with the right job/employee.
For those of you reading this that are preparing for an interview, please avoid these careless mistakes at all costs!
It's difficult to be your best at every moment, sure, but it pays off tenfold in the end. Remember, I'm a big fan of the "golden rule", that's certainly applicable in all of this a well.
Final Thoughts
Good things in life take time. I found my good thing over twelve years ago, and I've never looked back. Chris supports me in everything that I do (without his guidance and support I would've never started my own company), and he's part of the reason I'm so passionate about wonderful relationships—from our love story to the relationship businesses and employees share.
Everyone is looking for the best working relationship, but it doesn't always pan out. One of the reasons I'm successful is because I know what prosperous relationships require, and trust me, it's much more than meets the eye. After 20 years in the sales, startup and recruiting trenches, I have a keen understanding of why the above details are so very important.
If you've had more bad recruiting experiences than good and not able to find the "one", let's talk.  Nothing is more important to your business than getting it right the first time and I'm happy to help (insert shameless plug).
In the meantime, how are you approaching the dynamic world of sales recruiting? What correlations between dating and recruiting have you pinpointed? How do you take measures in getting it "right"?
As always, thanks for reading!
-Amy Volas