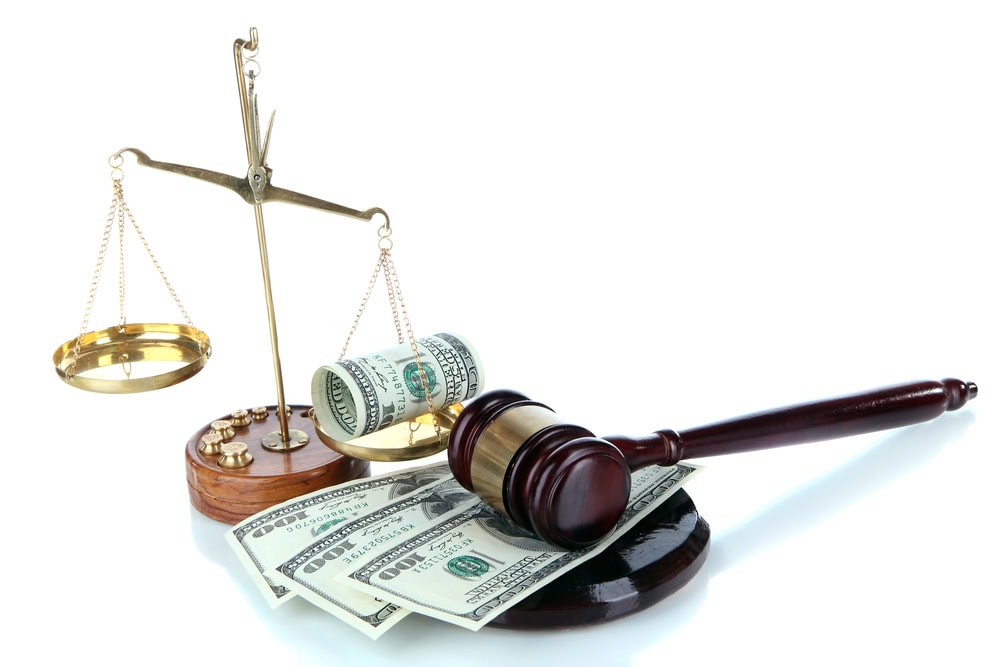 Enterprise Sales Compensation Trends in a HOT Market + What to Do About It
Unless you've been sleeping under a rock you know that the sales market is white-hot right now.
Hiring well in sales has been a challenge for some time, but it's a whole new complex ballgame of difficulty these days.  In particular, enterprise sales is especially hard.  From the executive leadership down to the rep level.  
In the last 4 days alone, I've had 7 Founders or Sales Leaders ask me where they can turn to for reliable help.
Make no mistake, the competition to hire top talent is fierce right now.  And once you've hired a standout candidate, nothing is set in stone.  
Despite being one of the most sought-after roles, the category of sales has turnover nearly 3X the rate of any other function.  If you're lucky, they'll stick around for 18 months.  What a scary statistic as the party is JUST getting started when you're dealing with enterprise sales.  
The reality is, we've got a major supply vs. demand issue right now… it's hard to find great people, hire them, and keep them for the long haul. 
When you consider how long it takes to ramp while building a repeatable pipeline, the complex nature of the enterprise market, the fact that you only get one shot at the enterprise "table" with these mega opportunities, and the massive fallout that can occur if those new hires decide to leave… it's clear that you need to have all your ducks in a row. 
Compensation is one of the key ingredients for boosting your ability to hire well while making sure you keep your top performers.  
My Thursday Night Sales partner in crime, Scott Leese reinforces the point well, check out that first point!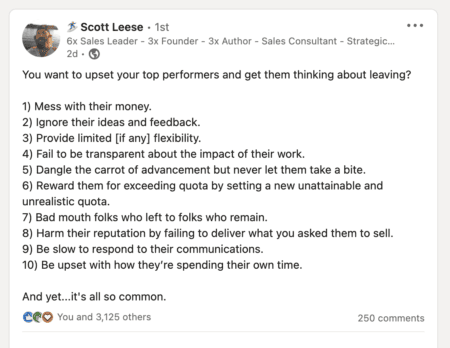 This article breaks down what you need to know to help you put your best foot forward while reducing the margin for error.
Now's the time to ditch the things that aren't serving you well and adjust your enterprise sales compensation expectations to match the demands of the market.
Remember, the market speaks the loudest.  You just have to listen. 
If you're trying to navigate this complex and dynamic market while hiring and retaining top enterprise talent, you need to understand the reality of the landscape and adapt accordingly. 
Here's what's happening in the market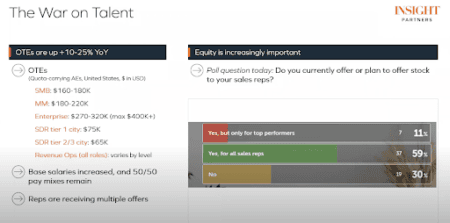 To sum up the data, here's what we're seeing firsthand at ATP: 
True enterprise sales is commanding

at least

$150K+ in base salary

Base salaries are up 20-30% across the board

We're still in 50/50 split mode

Signing on bonuses and guaranteed ramps are table stakes

Equity is a priority
Let me be clear, the war for talent is raging!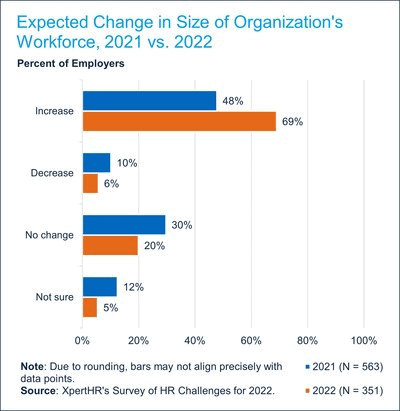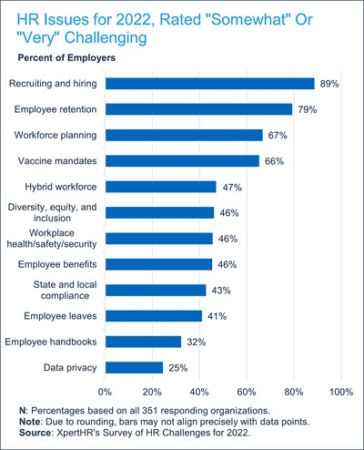 A Founder I talked to this week lost three candidates to other opportunities.  They have an efficient, candidate experience forward 3-step process and this happened after the first conversation.  Within 4 days, each candidate went from no offers, to several to choose from with this Founder losing out.
This is just one example of many as to why you need to be organized and laser-focused in your enterprise sales hiring.  One misstep or delay and that top candidate you interviewed is going to head somewhere else. 
Companies are moving at lightning speed, the shiny object syndrome is running rampant, and people are getting snagged up quickly.  
You can't afford to drag your feet.  Ask yourself, do you have the time, energy, and money to lose when you're not able to make these important hires or lose them after they join you?
So, what's driving the current market?
For starters, there is no shortage of money swirling around in tech.  
After 2020's "Covid Pause," the push to catch up and grow is in high gear. 
The market was hot pre-COVID, companies had big hiring plans, and that cautious pause set things back for many and then some.  Trying to accommodate those original plans, keeping up with the pace of new goals, and navigating the dynamics of the market is tricky.  . 

We've proven that SaaS companies are resilient to economic shutdowns and uncertainty.  Today's valuations are sky high and that means that the pressure is on for SaaS startups to maintain higher standards to compete. 

A VC I know well won't touch a deal unless there's at least 230% growth YoY.  When growth is skyrocketing across the private sector, startups are required to compete at a higher level… FAST.  But fast growth, especially with a "growth at any cost mindset"  puts an unnecessary burden on you and your existing employees.  
It also leaves a ton of opportunity behind due to the fact that the chase to try to keep up versus sustainably building is a reality.  Failing to recruit new hires fast enough means that existing staff can be pushed to their limits, leading to poor performance and less customer satisfaction with turnover and churn soon to follow.

Hiring too many people too quickly will wreak havoc on your quality of output for the long haul.  Maintaining a strong company culture as you scale is essential.  
Incentivizing your employees to stick around to defy the odds is the name of the game. 

Risks to be aware of
The biggest risk you have to face in today's market is fast employee turnover.  
The data is sobering.  15M+ people quit their jobs since April 2021.  Even with employers bumping up their bonuses and financial perks, employees are viewing it as a transactional relationship that isn't meeting their deeper needs.  
Simply put, money doesn't fix what's broken.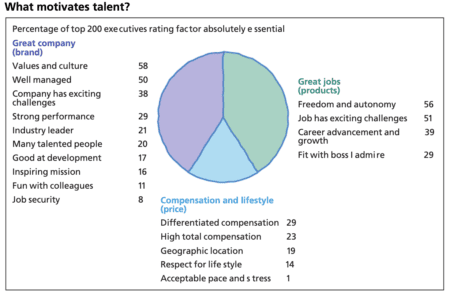 You can't expect a band-aid to cure a wound that needs surgery.  As Richard Branson so wisely put it, "if you look after your staff, they'll look after your customers.  It's that simple."
Pay, benefits, bonuses, and other perks are absolutely important, but most important is feeling seen, heard, understood, and valued.  The companies that create an environment that fosters meaningful relationships, not transactional ones will be the businesses that stand the test of time. 

The top 4 reasons enterprise salespeople look elsewhere from the last 7 years of our data collected:
Leadership

– it starts at the top

Product-Market Fit (PMF)

– without validation, top sellers are setup for failure

Opportunity

– the path forward to grow and thrive within the business

Not Feeling Valued

– being "just a number" doesn't cut it
If you don't have these foundational elements in place, turnover is sure to follow and is a massive cost (7-figures) that sets your ability to grow or scale back and then some! 
Employee retention in enterprise sales is more important than ever before.  
But here's the good news: 75% of that retention is in your hands. 
So if you take steps to ensure that your employees are valued, and properly compensated for their expertise and contribution, you can avoid the devastating fallout of turnover that's running rampant in enterprise sales today.
Here's what you can do about it
Create a bulletproof hiring process
Intentionality is the winning piece of the puzzle.  It's essential that you know exactly what, why, and who you're looking for BEFORE you start the hiring process.  Good preparation goes a long way – for both your candidates' perception of your company and your ability to stay on track.    
When creating your job descriptions, do not copy someone else's thinking it's a "good enough" hack, saving you a lot of time.  The name of the game is being intentional about the role requirements, the work it takes to do the job well, what's in it for the person, while sprinkling what makes you special and unique on top.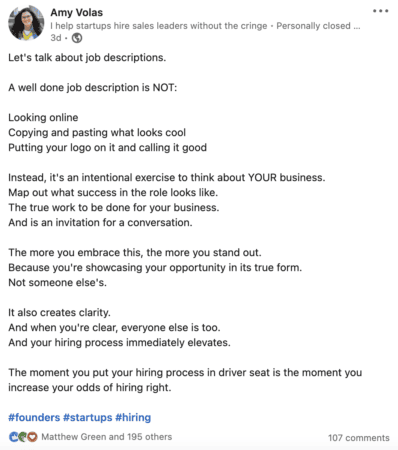 It's very easy to get caught up in the shiny objects.  Many candidates can seem top-notch because they have great communication skills or personalities while making hefty statements about what they've done.  But can they back it up with the "how" and does that "how" map back well to your task at hand?
That's why you need to dig deep below the surface to ensure alignment.  After all, alignment is the new loyalty. 

This checklist is a great gut check to keep you on track after an interview: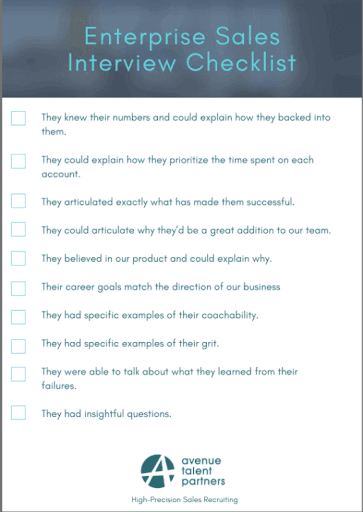 Focus on retention and understanding your employees

The party is JUST getting started once your offer letter is signed.  This is just the beginning of the relationship! 

Proactively investing in the development of your employees is directly correlated to retention.  That means understanding their needs, open communication, clear expectations, competitive compensation, and opportunities to grow and thrive.  

Another note on the compensation front: get your comp plans buttoned up early.  Communicating goals and details on how the team gets paid now, when the new year has already started is unacceptable. This happens all too often, and is an opportunity for you to stand out to candidates and your existing team.
Pull all the compensation levers that you can

It's easy to get fixated on dollar amounts, but that's only one aspect of compensation.  This ties back into understanding your employee's needs more broadly. 

Some of the compensation levers to consider:
📍 Base salary
📍 Variable/upside (for the love of God, ditch the caps)
📍 Guaranteed ramp compensation
📍 Benefits and employee contributions
📍 Retirement AKA 401k + Match
📍 Equity
📍 Time off
📍 Flexibility
📍 Home office setup costs
📍 Titles
📍 Paid education, training, coaching, mentorship
📍 Bonuses
📍 Accelerators
📍 Maternity/paternity leave
📍 Aging parent policies
📍 Mental health support… the burnout struggle is REAL in sales
📍 When commissions get paid and how they get paid
Salary is just one part of the equation (albeit an important one). 
So when creating the job offer, put yourself in their shoes and think about everything they'd consider when making an important career/life decision.  Then openly talk about their levers and yours together.
Don't make lowball offers

It wasn't cool before and it's certainly not going to work now.  A lowball offer is an instant turnoff in today's market.  
Do you like it when this happens to you?  I didn't think so.

Top candidates are coming to the interview table knowing what they're worth.  If you try to cut corners or pull a bait and switch at the 11th hour, you don't have a chance of bringing in the cream of the sales crop.
Also, it's a big, small world.  People talk.  Is this really what you want to be known for and the brand you want to create in the market?
Make your offers clear, comprehensive, and competitive.  
Talk about compensation early and often
Why wait to have an important discussion like this?  It's a lot easier and efficient to discuss compensation together early and often in the process.  Operating in the dark does either party zero favors. 

When you're upfront about compensation it builds trust right from the beginning and lets candidates know that you're clear and respectful.  Being proactive versus reactive sends a beautiful message that you're not playing games, you respect the process for both parties, and is a good indicator of what it would be like to work together down the road. 
The proactive communication doesn't stop here… Once your hire is made, double down on your onboarding process as well.  
Support flexible working options

We're living through some serious history and there are many shades of grey when it comes to how we work together.  Your ability to meet your employees where they are through flexible working options is table stakes.  How, when, and where are no longer "innovative" ways to address "The Great Resignation" dilemma, it's a requirement.    
Regardless of what you think about it, this trend is here to stay.
Wrapping Up
The one constant in sales is that it's ever changing.  How you navigate those changes is key to your long-term success.
As you can see through what I covered, there are many factors when it comes to compensation.  The importance of understanding its place in your ability to hire well in the enterprise sales market can't be emphasized enough.  
So do the legwork upfront.  Develop clear and competitive comp plans with incentives that align with your business and what enterprise reps value most.  And back up your words through meaningful action.
This is the secret to staying competitive in this white- hot market while building an exceptional enterprise sales team that takes your business to the next level.